Key Specs of Lenovo Z6 Pro Leaked Today (Only 1 Day Before its Launch)!!!
The security is one of the most important factor of a thing either it is a product, a set of code or something else. The electronic devices have also much privacy in this regard and it is the major point of any company about its products. The Lenovo Company has scheduled an event tomorrow in which company will announce its upcoming smartphone Lenovo Z6 Pro. But the curiosity has been finished as the specs have been leaked today. In the leaked picture the info about cameras, RAM and storage, Hyper video feature, packaging, battery capacity and others are given. It is really a sad news as the specs of upcoming Lenovo Z6 Pro smartphone have been leaked only one day before its official announcement.
Lenovo is going to announce its latest Lenovo Z6 Pro smartphone in the event that will be held in Beijing, but the specs of this smartphone have been leaked today. the specs are unveiled only one day before its official announce. The specs that are leaked yet are mentioned below. The key details can be seen in the given picture via full specs sheet through a Weibo post as follows: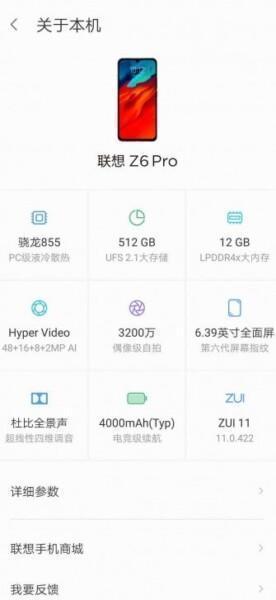 In the leaked details the upcoming Lenovo Z6 Pro will support a 6.39-inch water drop notch screen with a 32MP selfie camera and built-in fingerprint scanner. The Snapdragon 855 is paired with 12GB RAM and 512GB built-in storage. On the back there are four cameras as 48MP, 16MP, 8MP, and 2MP present together capable of outputting 100MP resolution images. The camera also includes the new Hyper Video feature with enhanced macro capabilities and faster speed transfers.
Other companies as Samsung has also Launched 2 more smartphones in A series A60 higher mid-range and A40S a low mid-range device.
In order to more specifications it includes 400mAh battery capacity. Additionally, the upcoming Lenovo Z6 Pro would be the first smartphone with the support of 5G connectivity by the company.
There is no word about the price and availability of this smartphone so you need to wait for 24 hours. All the remaining details would be announced at the event, so make sure to check the complete details tomorrow on Lenovo's new flagship.