Benelli Motorbikes have Launched 2 Amazing Motorbikes Named Benelli TNT 150 and TRK 502 in Pakistan
Motor Bikes are very common in Pakistan as many people can't afford Cars. Many Pakistani and international bike brands are launching motorbikes every year and customers like them too. But if you want a perfect tourer motorbike or a stylish bike, then Benelli has launched its two amazing Benelli Motorbikes in Pakistan. The Italian brand is all ready to make your rides even more joyous and safest. The amazing Benelli TNT 150 and Benelli TRK 502 Tourer are the latest and outstanding models which are now available in Pakistani markets.
Benelli Motorbikes:
Here are the two amazing Benelli motorbikes which have amazing specifications and features. Indeed, these tourer bikes along with a luxurious bike will force you to buy one for you.
Benelli TNT 150:
This motorbike is perfect for potential motorbike bikers which has an attractive appearance and wonderful features.  Benelli TNT 150 has four strokes single cylinder engines which are super powerful and liquid cool. Moreover, the 30 Liter petrol capacity allows you to ride long and safe. With the dry weight of 44 Kg alongside with 5-speed transmission, this bike is a perfect riding companion. The motorbike is built with steeled framed material which ensures durability and reliability.
This motorbike is not available for sale yet, but it's just a showcase to attract the potential customers. Now, this bike has to face the major competitors like Suzuki, Honda etc. but for sure this bike will do well. The price of this incredible bike is about 280,000 PKR which is much reasonable with that features and appearance.
Benelli TRK 502 Tourer:
If you are in search of an amazing tourer bike and have not yet discovered an amazing one, then this model is a perfect choice for you. The Benelli TKR 502 has 500 cc parallel and twine 8 valve engine. As this is a tourer bike, that's why it comes with standard 3 carry boxes which help you to carry as much stuff as you want.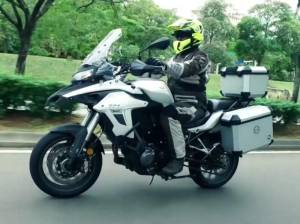 The motorbike is available for both the online booking and immediately buying. But you have to pay fewer charges if you buy through booking and more charges you have to pay if you are going to buy it immediately. For booking, you have to pay 1,135,000 PKR but you have to wait for 2 months.  For immediate buying, you have to pay some extra money and the price is PKR 1,175,000
Related Article – Toyota Corolla Xli Automatic Car in Pakistan – Check Specifications and Price