The Punjab government has officially banned taxi services in Lahore including two giants services of Careem and Uber.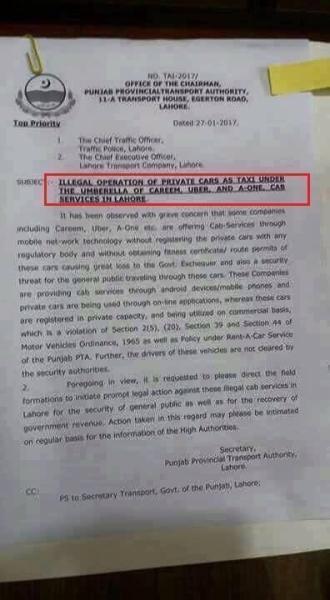 In an official notification published by the Office of the Chairman Punjab Transport Authority, the subject clearly states that:
"Illegal operations of private cars as taxi under the umbrella of Careem, Uber and A-One car services in Lahore".
And Thus, Punjab government has absurdly banned general public ridding services of the 21st century's way of public transport. However, on the other hand, Lahoris are showing quite an aggressive reaction to this ban and have shared their opinion and anger on multiple social media platforms. Careem and Uber provide comfort and easy access to majority population of Lahore and on the other hand, have severely affected other public transport services operating in Lahore for middle-class population. Many rikshaw drivers, taxi drivers has shown aggression towards Uber and Careem drivers as well. These services have also affected businesses of Rent-A-Car services.
It has been written in the notification:
"It has been observed with grave concern that some companies including Careem, Uber, and A-One etc are offering Cab-services through mobile network technology without registering the private cars with any regulatory body and without obtaining fitness certificate/ route permits of these cars causing great loss to the Govt. Exchequer and also a security threat to the general public traveling through these cars. These companies are providing services through android device/mobile phones and are private cars are being used through on-line applications, whereas these cars are registered in private capacity, and being utilized on commercial basis which is a violation of Section 2(5), (20), Section 39 and Section 44 of Motor Vehicles Ordinance, 1965.."
However, it should be noted that the Ordinance of 1965 has been implemented in 2017 by Punjab government. Well, the government is responsible to modify the Ordinance accordance to present day demand.
Kindly share your views with us regarding the ban!!!