What's with Changan – A Chinese Automotive Agency?
Changan is the Chinese automobile industry. It introduces several vehicles that are used all over the world, including Pakistan. Along with the experience of 32 years in the automobile industry and manufacturing a huge number of passenger vehicles, Changan becomes the leading automobile industry in China. They say that:
With Changan, you get both happiness and safety!
Looking back in 1984, Changan introduces its first mini-Vehicle, "Star." This mini-van gets a very positive response even from the China Government. The car goes through many road tests and proves its reliability and durability. After seeing the good results, the government also supports the growth of this Changan automobile agency.
Changan introduces three new models in Pakistan
After the massive success of Changan Vehicles throughout the world, the agency intends to introduce three more mini- pick-ups, including two models of SUVs-Uni-T, Oshan X-7, and the Pick-up hunter, along with a double cabin facility. All three mini-vans are coming with the latest technology and as well as exclusive features.
Features & Specifications
SUVs-Uni-T –
They contain a 1500cc turbocharged engine. This unit is involved in the category of Toyota CH-R and Nissan juke, respectively. Hence, this exclusive model is introducing a powerful engine with exceptional torque and horsepower.
Oshan X-7 –
It also contains 1.5 liters of a turbocharged engine. It produces about 178 horsepower and torque. Furthermore, it also makes about the electric version of approximately 250 miles. It provides comfortable driving modes respectively.
Pick-up Hunter –
The overseas version of the hunter trucks, Pick-up hunter, is also a great production by the Changan automobile industry. The Chinese specification model is a more comfortable and more refined pick-up model out there. This van provides about 1.9 liters of turbocharged diesel engine currently. Provides approximately 150 horsepower and torque.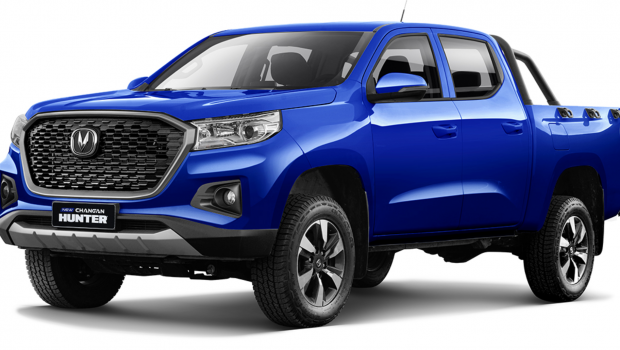 To summarize:
While talking to media, the company sources say. "The company is making sure that all three models are testing on the roads of Pakistan."
"We intend to launch either a single vehicle or all three vehicles once. We don't decide yet but one thing to make sure that we are working on introducing more vehicles," they further added.
Changan- Successful driving forward with you!