iPhone v/s Samsung is similar to the Civil War Captain America. So let's have a quick sneak peak at variety, availability, operating system and price range comparison analysis between the two.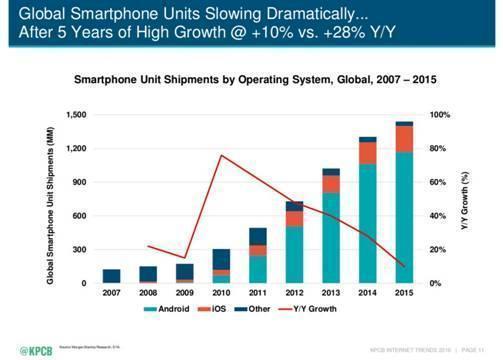 Source: http://www.kpcb.com/internet-trends
Design
It is undeniable that Samsung did copied Apple but EDGE, EDGE Plus and especially after sleek S7 designs, Samsung has definitely won the arena.On the other hand, iPhone 7 is a considered to be the complete makeover of iPhone 6S.
Camera
Samsung has introduced dual pixel sensor whereas Apple went for a bigger sensor to produce superior quality images.
Operating System and Storage
Samsung has always used Android as its OS and its Marshmallow with TouchWiz as cherry on top thus removing the bugs to give swift and smooth response to users. Apple has designed A10 Fusion for iPhone 7 to make it 40% faster than A9. Well, as far as storage in Apple is concerned, it has finally augmented its storage capacity by providing myriad options including 32GB, 128GB and 256GB.
Battery
Apple has always been a target of criticism for smaller battery time in previous version of iPhones but it has definitely improved its battery life in iPhone 7. On the other side, Android has got improved battery management features for example"Doze" and "Always On" mode which makes Samsung an invincible player in this zone.
Verdict
It can be said without any second though that Samsung is a win among youth and college, university students for its inventive sleek and stylish designs, large screens, more storage and visibly lower price.
On the other hand, it's quite clear Samsung can never beat iPhone camera. Apple has concentrated its focus more on technology advances and enhanced features and thus, delivers an outstanding user experience and it is needless to say that it is always worth to pay for an iPhone.