Faisal Edhi, head of Edhi Foundation and son of late philanthropist Abdul Sattar Edhi, has announced the relaunch of Edhi Air Ambulance Service. Moreover, he said that the Edhi foundation will soon start flying the aircraft to rescue patients during emergencies. The main aim here is to rescue patients through aircraft. As a late philanthropist, Abdul Sattar Edhi used to drive ambulances from their service decades ago.
Edhi Air Ambulance to be Started Soon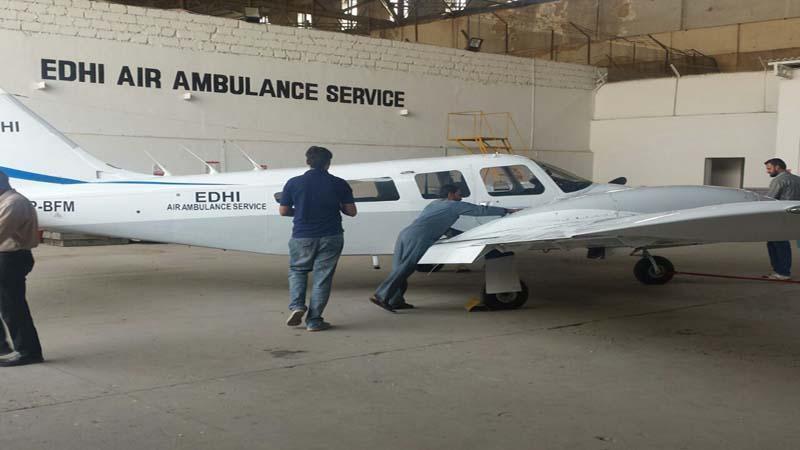 Furthermore, he said that he is a trained pilot.
"I completed 40 hours of flying with my instructor and two hours of solo flight during my training at a flying school in England in 2001."
However, he could not get a license because of some issues. Faisal added that later he got busy with work and never got the chance to obtain the license.
"I had the dream of taking the Edhi Foundation to calamity-hit areas to rescue patients by flying the aircraft but it was never fulfilled,"
He said the reason behind shutting down the air ambulance service three years back was the death of their chief pilot Captain Imtiaz. Moreover, he spoke about the test flight that will be conducted in two to three days. There had been a test flight earlier in the last week but was not approved by the Civil Aviation Authority due to some Technical problems in the aircraft.
Furthermore, he said, "We have tackled the issue in the aircraft and hopefully this week we will get approval to fly."
Significance & Further Plans
Explaining the significance of the air ambulance, Faisal Edhi said that the air ambulance will help airlift serious patients to major cities during accidents and emergencies. "Precious lives can be saved through this service,"
Moreover, he said that adding this service is necessary for emergency situations. Especially in situations when road access is blocked due to earthquakes or floods.
In the case of emergencies, the service will be delivered free-of-charge. Moreover, it will charge PKR 70,000 to PKR 80,000 per hour in other cases.
He said that currently, they planned to buy single-engine Cessna Grand Caravan, a 14-seater aircraft. It will increase the fleet of their air ambulance service. Moreover, donations for this purpose have already been collected. However, he said that, being a single-engine aircraft, it would not be permitted to fly at night in Pakistan. Moreover, although the same aircraft usually flies in Europe and the United States.
Faisal added that the new aircraft will be added within a few months. That can be landed on roads in emergency situations and can transfer between six to 10 patients at a time.