Haval H6 HEV has finally arrived in Pakistan. In an event last night, the latest car was launched and an exclusive sneak peek was given at all the features of this new model. Sazgar Engineering Works Limited (SEWL) launched this Haval H6 hybrid electric vehicle (HEV). This is Pakistan's first locally assembled hybrid SUV. Although, there are some hybrid cars already present in Pakistan, they are completely built-up imports and not locally assembled.
Exterior of Haval H6 HEV
The already present Gen-3 H6 is a very well looking SUV but this latest HEV has a slight more structure and design to it. The front of the SUV comes with a larger front grille and a different bumper design that gives this SUV a more aggressive look. The hybrid has a broad stance and modern dual projector headlamps. The SUV comes with a new front grille that blends into the body, a sharper bumper, and a long snout to enhance its presence on the road.
The back of this hybrid SUV has a small rear windshield along with a duck tail spoiler and a taillight design. As oppose to the front of the SUV, the back gives it the look of most SUVs that are already present in Pakistan.
Interior of Haval H6 HEV
The hybrid comes with a clean and minimalistic interior. The dash and centre console contain various buttons, screen, or a flat panel. The seats and other interior of the car is wrapped in high end materials. The SUV has a modern three spoke steering design. The hybrid is spacious enough to accommodate five passengers and has a very good luggage space.
Dimensions of Haval H6 HEV
| | |
| --- | --- |
| Measurements | |
| Length | 4,653 mm |
| Width | 1,886 mm |
| Overall Height | 1,734 mm |
| Wheelbase | 2,738 mm |
| Ground clearance | 212 mm |
| Curb weight | 1,770 kg |
| Luggage capacity | 600 litres |
Performance of Haval H6 HEV
The HEV comes with a turbocharged 1.5 litre 4-cylinder petrol engine. Along with the output of an electric motor, it makes 240 horsepower and 530 Newton meters of torque. The hybrid powertrain is able to send power to the front wheels through Haval's 2 speed dedicated hybrid transmission (DHT). The SUV comes with a McPherson struts up front and in the back it has an independent double wishbone suspension. The hybrid has disc brakes on all four wheels.
The HEV is said to travel 18 Km per litre in city and the highway consumption of the SUV is said to be even better. The top speed for this car is 180 km/h in order to preserve electric motor and battery.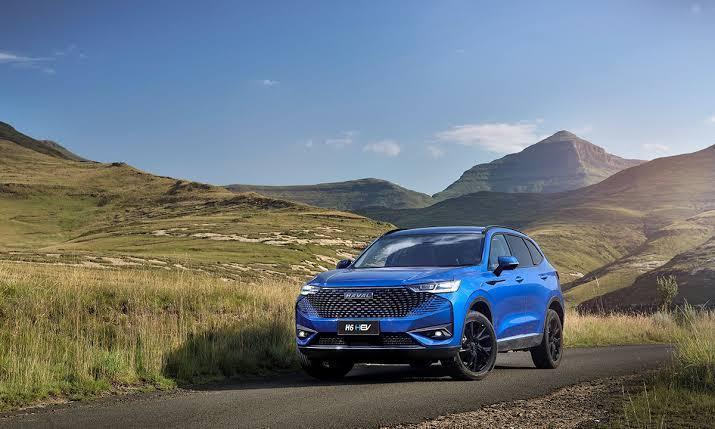 Other features of Haval H6 HEV
The SUV comes with a lot of features including a central power door locks, immobilizer system and burglar alarm, parking sensors, cruise control, tire pressure monitoring system collision warning, and parking assist to name a few.
Haval H6 HEV Price in Pakistan
Currently, the price of this hybrid SUV in Pakistan is said to be PKR 97.49 lacs.