Mid-range Killer Huawei Y9 Prime 2019 is Ready for Pre-Orders…
Here is an exciting offer for the Huawei Y9 Prime 2019 lovers as this is the best time to buy this smartphone. The latest Huawei Y9 Prime 2019 with excellent specs and features is available now at all Huawei outlets for pre-order. As the smartphone has many excellent features but there is one more good news as if you register yourself via pre-order then you can also get 12GB Zong data and a Bluetooth speaker also. So don't wait more and rush to the Huawei outlets for buying this special and beautiful smartphone that is available on in Rs.33999/- PKR. It is a mid-range smartphone that is also famous with the name of mid-range killer. All the key specs and features are given below. The smartphone can be pre-ordered at Huawei outlets from Saturday 29 June 2019 till Sunday, 07 July 2019.
General Details:
The amazing Huawei Y9 Prime 2019 smartphone supports Huawei's pop-up camera and Ultra FullView display of 6.59". It comes fully loaded with cutting-edge technology from its design, display and performance as well as its battery. It is powered by the 12nm Kirin 710Ffour A73 2.2Hz cores and four A53 1.7Hz cores.
Huawei Y9 Prime 2019 contains no notch, slider or hole. The screen is fully smooth and unobstructed glass surface. The full-screen display measures at 19.5:9 in aspect ratio.
Camera Details:
This smartphone packs a 16MP + 8MP + 2MP triple-camera on its back. The 16MP primary camera is also embedded in it. The smartphone empowers users to recreate scenes in their full complexity, with enhanced image clarity, contrast and overall quality. AI image stabilization algorithms are used to improve the dynamic range that makes vivid, colorful photography possible in dark environments.
Huawei also Launched Huawei Nova 5 Series (Nova 5, Nova 5 Pro & Nova 5i) in last week of this month.
Exciting Offer on Pre-order of Huawei Y9 Prime 2019:
If you pre-order the Y9 Prime 2019 then you can get an exciting offer as 12GB Zong Free Data and a Bluetooth Speaker. So hurry up and rush towards any Huawei's outlet.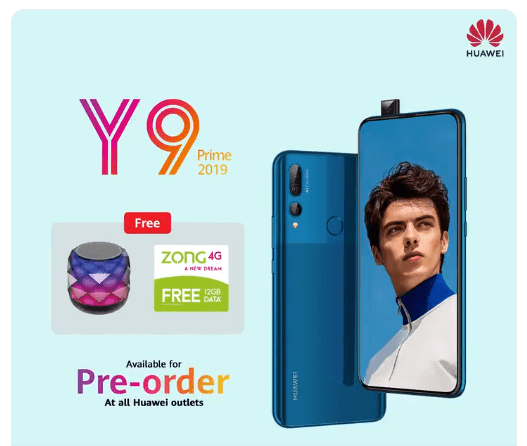 Battery capacity:
The amazing Huawei Y9 Prime 2019 comes with 4000 mAh battery.
Pre-order Details:
The pre-orders for Y9 Prime 2019 are started from today as Saturday 29 June to Sunday 7 July, 2019. The price of this smartphone is PKR 33999/-. It can be get in three colors as Midnight Black, Sapphire Blue, and Emerald Green.