Inpage 2009 Free Download is easily available online. Inpage 2009 is one of the only good Urdu typing software available freely to the general public. Known for its very soft and useful design. Inpage 2009 is often used in offices and by young students who want to type in Urdu.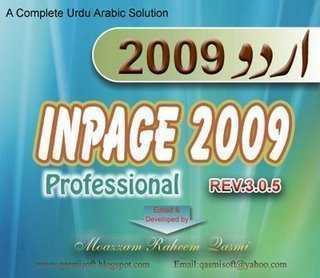 Urdu typing is not easy, especially when you don't have an Urdu keyboard to help you out. This is the reason why Inpage 2009 comes in handy. Creating posts and content in Urdu language becomes very easy, especially when writing is Urdu is what you love.
What is Inpage 2009?
Made to mimic Microsoft Word, Inpage 2009 is a word processor that a person can use to edit, manage, create and print out documents written in Urdu language. Even though Microsoft has introduced Urdu language font in their latest Microsoft Word software, the font itself is very disappointing and the users are not happy with the results. The Urdu font is in Microsoft Word is very similar to Arabic language, which is very confusing.
Since the Inpage 2009 Free Download is easily available and Inpage 2009 is very easy to use as well, which makes it the software of choice for many users. This makes creating texts and documents in Urdu exceptionally easily.
Features of Inpage 2009 Free Download
When you find Inpage 2009 Free Download, you will also get a hold of some fantastic features of this superior software. Some of its highlighting features include:
Quranic text feature
Auto Kerning feature for Nastaliq fonts
Exports Urdu texts in RTF format
InPage 3.60 Version is available for Mac users
Feature to view an image in import
More than 60 Unicode Fonts for Nashk
Urdu language Spell Checker
Unicode Support with other software
Generates Index automatically with Urdu, English page numbers.
User-defined and viewed Keyboard
Kashmiri language support in the latest release
Direct Saves as HTML format
Supports Full Color Separation
System Requirement for Inpage 2009
Getting a link for Inpage 2009 Free Download is easy, but there are minimum system requirements that you need to ensure. If your computer or laptop does meet these requirements, you may not be able to use it. The system requirements for Inpage 2009 are:
Operating System: Windows XP, Vista, 7 and 8
Processor: 1GHz processor
RAM: 128MB
Hard Disk Space: 64MB space required
Your system needs to match these requirements or it needs to have higher specifications.
The file is 14MB, which is very small considering other similar software. Installing it very easy. Just click on the software you have downloaded and follow the instructions. Your life will be much easier when you get Inpage 2009 Free Download.
To Download
https://www.glowpc.com/My%20Uploads/inpage.exe