Jazz Digit 4G Energy is a touch and type feature phone with many new amenities on a budget. While some people will say the days of feature phones are done, but they are making a comeback once again. Granted, the feature phones have changed and become better than they were ever before.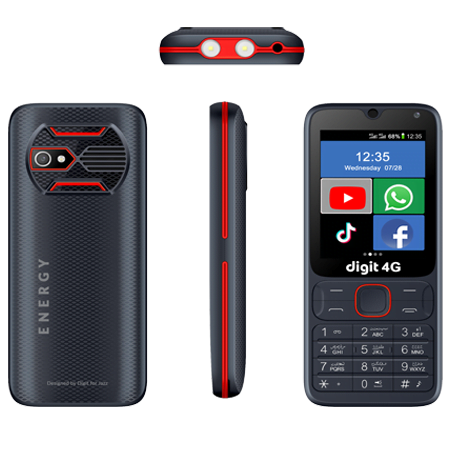 The brand new mobile phone from Jazz offers everything you wish for in a smartphone but with the convenience of a feature phone. This is a touch and type phone that will mix the features of both a touch phone and a feature phone.
Here is everything you need to know about mobile phone and what you can expect from it.
Features of the Phone
The Jazz Digit 4G Energy will come with some pretty specific features that are considered good for a feature phone. Here are all the standout features of the phone.
Digit OS which is Android 8.1
GSM, 3G and 4G connectivity
Dual SIM
2.8 inch touchscreen
1GB RAM with 8GB ROM
TF Card slot and support for up to 32GB
3000 mAh battery
WIFI, Hotspot, Bluetooth and FM
Front and Back Camera
What Makes Jazz Digit 4G Energy Standout?
The mobile phone features some amenities and features that make it a standout in the market. The fact that this is phone supports dual 4G SIMs is just one of them. The phone boasts of long battery life and social media apps.
This feature phone will support apps such as:
WhatsApp
Facebook
YouTube
TikTok
Likee
9apps
Price and Availability
The Jazz Digit 4G Energy will only be available at Jazz Business Centers and Jazz Retail Shops. On purchase of the feature phone, you get three offers from Jazz. These are:
Unlimited Free Calls: 2000 minutes for three minutes, no call setup fee and you can avail of this package by dialing *649*2#.
Free WhatsApp & Facebook: Free WhatsApp and Facebook with 5000MB free for three months. You can avail this offer by dialing *659*2#.
Free Data: Free 1GB data for 6 months. You can avail this offer by dialing *114*40*2#.
The price of the Jazz Digit 4G Energy is Rs. 7,999.