One of Pakistan's largest mobile network and the fastest mobile network in Pakistan as per Ookla's tests, Jazz is the best mobile network for many.
Recently, it was awarded as the fastest mobile internet service provider in Pakistan, upon which the CEO of Jazz stated, "When a global leader such as Ookla, recognizes Jazz's efforts to ensure that mobile communications technology remains at par with global standards, we consider it a huge win. We have always been committed to enabling users of our data services to upgrade their lifestyle for all things online."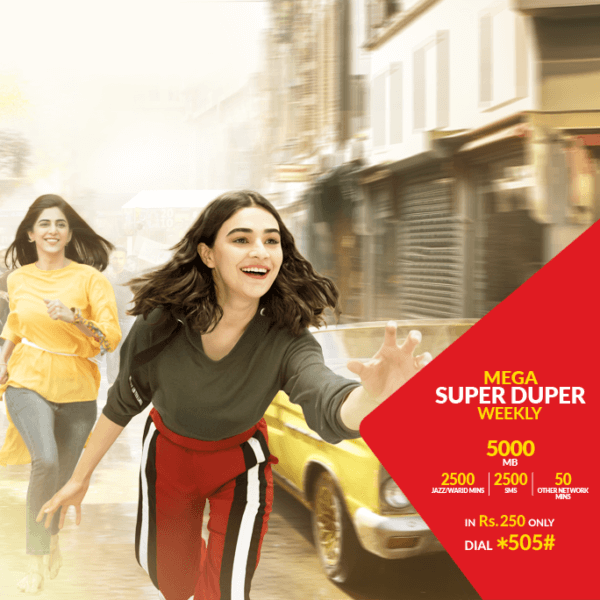 Jazz Super 4G is the fastest 4G in the country and also amongst the ones with the best coverage throughout the country. Jazz has introduced another offer to enable consumers to enjoy their blazing fast 4G internet on the go.
Jazz Super 4G introduces the Mega Super Duper offer for their 4G customers to provide them with an all-in-one package, according to their needs. The Mega Super Duper offer provides 5000 MBs of super-fast internet on the go, 2500 Jazz+Warid (On-Net) minutes, 50 off net minutes and 2500 SMS for a week.
Also Check Out: Telenor Pakistan Introduces three new 4G Devices.
Jazz Super 4G customers can subscribe to the Mega Super Duper weekly offer for Rs.250 only and the validity of this offer is 7 days. To subscribe, customer will have to dial 505# from their Jazz/Warid mobile network and subscribers can check the amount of remaining internet MBs, Off-net minutes, On-Net minutes and SMS, by dialing *5052#.
The Mega Super Duper weekly offer is non-recursive, which means that it will not auto-subscribe and you'll have to re-subscribe to this offer once it has ended. However, it does allow multiple subscriptions, which means that you can subscribe to this offer multiple times go multiply the amount of MBs, SMS and Off/On-Net minutes for a week.