Latif Kapadia Memorial Welfare Trust(LKMWT) has joined hands with The Hunar Foundation (THF) in an effort to create an awareness for various basic health issues and the particular effects of consuming "Gutka. To safeguard the common ailments within the society by adapting precautionary measures.
Following this alliance, 'Gutka Eradication' event was held at the Karachi Institute of THF, with the core purpose of educating the students about the harmful effects of eating gutka, and necessary precautionary steps that need to be ensured to overcome this addiction.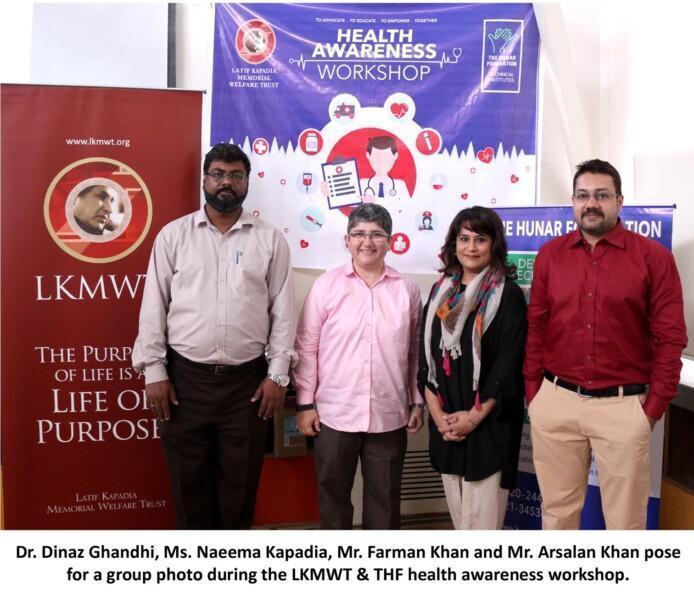 The workshop was conducted by Dr. Dinaz Ghandhi, Honorary Board Member LKMWT who is also an Associate Professor, Altamash Institute and Consultant oral and Maxillofacial surgeon at Aga Khan University Hospital. Ms Naeema Kapadia – Program Director — LKMWT , along with Mr Farman Khan and Mr Arsalan Khan of LKMWT, also participated in the workshop.
Commenting on the occasion, Dr. Dinaz Ghandhi said, "Our youth holds immense value in terms of the nation's progress, and for that it is our duty to ensure these young kids are well educated towards basic health issues.It is pertinent for these children to understand the level of threat, Gutka and other such eatables possess, it not only leads them to ailments, but also halts their progress in academic lives," she concluded.
Ms Naeema Kapadia of LKMWT added, 'We will continue to reach out to the marginalized communities in spreading awareness of the menace of gutka consumption. Together, LKMWT and THF aim to advocate, educate, and empower the youth of our communities for improved health."
Also present at the event, were Air Commodore (Retd)- Muhammad Nasiruddin, Principal of the DMSTI of The Hunar Foundation- Karachi and Mr Abdul Razzaq Sandhu, Academic Coordinator at the DMSTI.
Air Commodore (Retd) Muhammad Nasiruddin added, "THF has given a platform to the Health Sector to raise awareness about urgent health care issues prevalent in our society. We at THF invited LKMWT to hold a workshop on the menace of gutka consumption– LKMWT raised concerns of THF students about the effects of using pan, chalia and gutka, who will now become ambassadors and carry the message to their families and communities forward.
The event and workshop was attended by many students along with the officials of LKMWT and THF, which aims to empower the youth of our country through such collaborations.