It seems like Oppo Find X3 Series is just around the corner. The mobile world lost its mind when suddenly rumors started going around that the release date of Oppo's much awaited Find X3 series has been leaked. However, soon after, it was revealed that Oppo has plans to announce the release of this much coveted series.
To cement the rumors and make them true, the Chinese brand released a teaser picture to announce a release date for the series and confirmed.
Oppo Find X3 Series Release Date
According to the teaser picture released, Oppo has announced that their new Find X3 series will be released on 11th March of this year. Which means, the new series is just 11 days away. The image was making rounds on the Chinese social media platform called Weibo.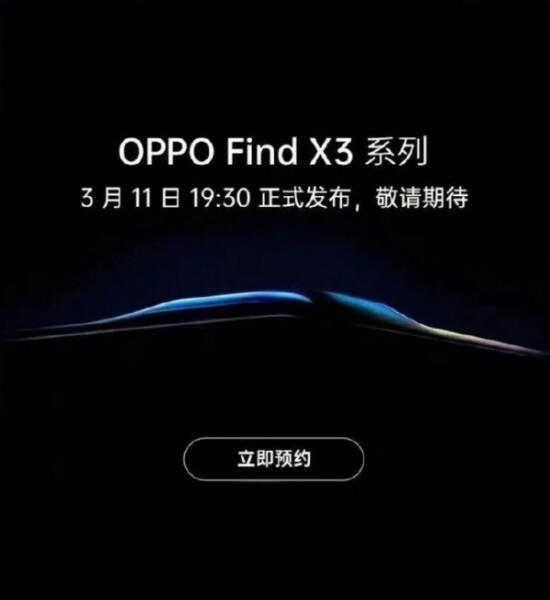 The new series is expected to be a big one. The fans of this luxury Chinese phone makers are expecting to see Find X3, Find X3 Pro, Find X3 Lite and Find X3 Nero smartphones. There are some rumors that some of these smartphones will be rebranded and become a part of Oppo's flagship line that includes Reno 5 series. Some are expecting at least one of these phones from the Find X3 series will become Reno 5 Pro+ and a mid-range Reno 5 phone.
What Are the Expected Specifications?
According to the rumors, the smartphone will have 6.7 inch AMOLED touchscreen display with a 1440p screen resolution. However, what is exciting is that the phone is expected to have an adaptive refresh rate range between 10Hz and 120Hz.
Much like most new phones by Oppo, the new Oppo Find X3 Series will also feature Snapdragon 888 chipset, however, the lower range models from the series are expected to feature the Snapdragon 870 chipset. The phones may come with 4,500 mAh batteries, 65W super-fast charging, and great camera results.
Not much has been revealed about the series, but new updates are expected to be released soon. All we have to do is wait for 11th March and see what Oppo reveals about their new Oppo Find X3 Series. What do you think? What are you most excited about?