Fawad Ahmed tested positive for COVID-19 just hours before the PSL 6 match. In a scary turn of events, one of the top international players in PSL 6 has tested positive for the corona virus. Fawad Ahmed started showing symptoms of the virus two days ago and is now in isolation.
One of our players, Fawad Ahmed tested positive for Covid and was immediately put in isolation 2 days ago. All other Islamabad United players & members have tested negative & have been cleared to play.

We wish Fawad a speedy recovery.#Sherus are ready to roar tonight!! https://t.co/ry0l6L3akx

— Islamabad United (@IsbUnited) March 1, 2021
The fans received the news just minutes before 7:00 pm, the regular time for the evening matches to be played this season. The match for tonight is between Islamabad United and Quetta Gladiators and as per now, the match has been delayed by a couple of hours.
Fawad Ahmed Tested Positive for COVID-19
Fawad Ahmed plays as a legspinner for Islamabad United. It was announced that the bowler had symptoms two ago and was isolated immediately. COVID-19 tests for the rest of the Islamabad United team have come back negative. At the moment, Quetta Gladiator players were being tested and their tests came back negative as well.
A player from one of the sides featuring in this evening's match has tested positive. The player had showed symptoms two days ago and had been immediately isolated.

Members of his side have tested negative while the players of the other side are being tested.

— Pakistan Cricket (@TheRealPCB) March 1, 2021
At first, the match was expected to begin on 7:30 pm Pakistan Standard Time. However, now the match is further pushed back to 9 pm. However, it was just announced that tonight's match has been further delayed and will be played tomorrow i.e. 2nd March.
Thanks for all the kind messages, please keep remember me in ur prayers, much needed ?? @IsbUnited @thePSLt20, and please everyone stay safe ??

— Fawad Ahmed (@bachaji23) March 1, 2021
This was Fawad Ahmed's first PSL. He played his very first match for PSL on Saturday 27th February. Although Islamabad United lost the match to Peshawar Zalmi. The 39-year-old player plays for Australia and has represented their international team in ODIs and T20s as well.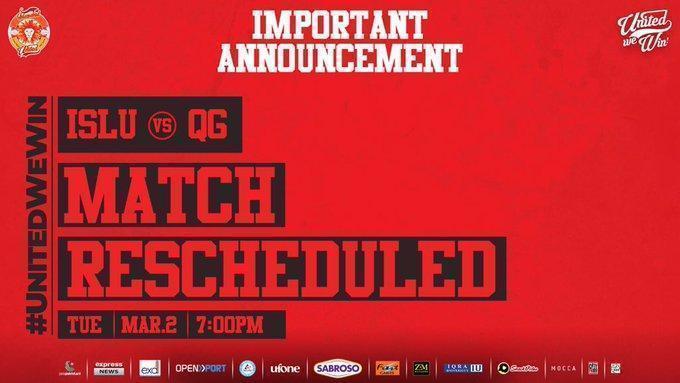 There are usually no matches played on a Tuesday, so the postponed match will be a welcome addition to the schedule. Prayers and well-wishes for the spinner are pouring in from all over the world and everyone wishing him a speedy recovery.
All prayers are with Fawad Ahmed at the moment.