Japanese automaker Suzuki is ready to jump into the electric vehicle market with Suzuki e-Burgman Electric Scooter. The electric scooter has already been revealed to the world during an auto show, and now the company is gearing up to release the scooter very soon.
The scooter was first revealed in Japan, and it looks like it will come to global markets soon. Between April and June of 2023, a pilot program will take place in Tokyo, Japan, to assess the e-Burgman before it enters production.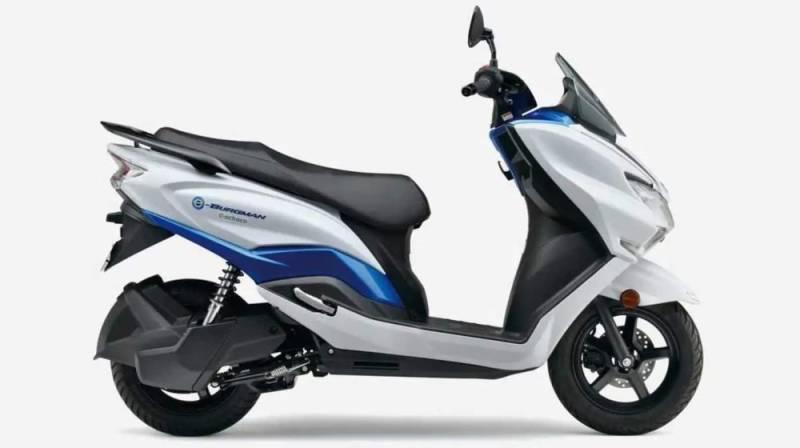 The program will utilize Honda Mobile Power Pack e-swappable batteries in the e-scooter instead of the fixed battery packs depicted in earlier patent drawings. The battery pack used in Gachacho, a battery-sharing platform created by the four major Japanese automakers – Honda, Suzuki, Yamaha, and Kawasaki, is the same as the one utilized in this particular product.
As a result, the upcoming electric two-wheelers from Yamaha and Kawasaki will also use these interchangeable battery packs.
Here is what you need to know about Suzuki e-Burgman and what you can expect from it.
Specifications of the Suzuki e-Burgman
Details regarding the Suzuki e-Burgman have been revealed. It is equipped with a 4kW motor (peak power) and generates 18Nm of peak torque. While its 44km range at a cruising speed of 60kph may seem limited, the use of swappable batteries should significantly reduce downtime.
However, it is worth noting that the scooter weighs a considerable 147kg. Additionally, it features the same seat height of 780mm as the petrol-powered Burgman Street. Regarding e-scooters, Honda has recently disclosed its new platform, which will serve as the basis for their upcoming electric vehicles, expected to debut around 2024.
Read more: United Launched 3 New Electric Bikes in Pakistan
Similarly, the electric Burgman is also likely to be introduced in 2024. Since Burgman employs Honda's interchangeable battery pack, there is a possibility that Honda and Suzuki may collaborate to share this battery infrastructure.
The Suzuki e-Burgman is expected to arrive next year or late this year. The price of the electric bike is expected to be around Rs. 1,878,330 or more.