Talha Chahour is one of the emerging actors in the Pakistani drama industry. Talha started his career with theater and then moved on to television to expand his horizons. He quickly rose to fame after he appeared in a drama named Jo Bichar Gaye, and since then, he has been one of the most sought-after actors in the industry.
Talha even received a nomination for best emerging talent in TV at the 21st Lux Style Awards. He has remained in the eyes of the media and the public for his handsome looks as well as his incredible talent. Although he started his career in theater, he now actively works in movies and dramas.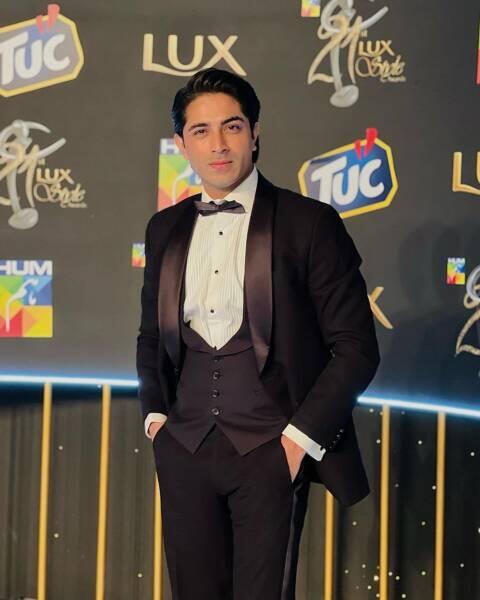 He is very picky about which character he plays, which is why you don't see him in too many dramas at the same time. His coworkers and actors all have great things to say about him, which is a big deal considering how some actors and actresses behave after they taste success.
Here is his complete biography with a closer look at his career, personal life, and more.
Biography of Talha Chahour
Age
Talha Chahour was born on 10 December 1997 in Rahim Yar Khan, Punjab, Pakistan. He is 25 years old, and his star sign is Capricorn. Talha was born and raised in Rahim Yar Khan, but he currently lives in Karachi as well as Lahore with his family so that he can pursue his career as a model and actor.
He is 5 feet and 11 inches tall, which is considered a perfect height for men in Pakistani society and as per the society of the country. Talha is the only one in his family who is in the media industry. With no artistic background, Talha has made it in the industry. His family fully supports his career choice.
Family and Parentage
Talha Chahour's Family is very supportive of his work. He belongs to a very big family that focuses on education and good living. He is the youngest of six siblings. His father is a lawyer and a member of the Punjab Bar Council.
Akhtar Chahour is also currently serving as chairman of the human rights committee in Punjab. Not much information has been revealed about his mother or his other siblings. However, it is common knowledge that he and his family moved to Lahore when he was 15 years old.
Education
Despite his preference to work in the media and modeling world, Talha Chahour completed his education simultaneously. He completed his early education at a local school and then went over to a prestigious college to complete his higher education. He then completed his Bachelor's in political science from the Government College University, Lahore, in 2018.
Relationships
Talha Chahour Is currently focused on his work and would like to keep it that way. If he does have a relationship, he would share it with his fans himself.
Read more: Saad Qureshi – Biography, Age, Dramas & Education
Becoming an Actor
Talha Chahour started his career as an actor. We started his career with theatrical performances. He first started participating in the dramatics club of his college, and then he gradually moved on to more significant performances.
Over the years, Talha has appeared in more than 400 theatrical performances with the Ajoka Theater Group. He has also traveled with this theater group to other countries in the world, including the United States of America as well as India.
He received his big break in December of 2021 with a political thriller drama. After that, he appeared in multiple dramas, but he was very picky about which roles he chose. In the meantime, He continued to work as a model and theater actor.
Here are all the dramas Talha Chahour has appeared in as of yet.
| | | |
| --- | --- | --- |
| Year | Title | Role |
| 2021–22 | Jo Bichar Gaye | Cap. Z. I. Farrukh |
| 2022 | Wabaal | Faraz |
| 2023 | Jannat Se Aagay | Farooq |
| TBA | Mannat Murad† | Murad |