With their blockbuster drama serial Mere Humsafar ending, ARY Digital is ready to launch Betiyaan. The new drama series comes with a full cast of characters and an emotional story that is bound to keep the audience stuck on the TV screens.
The cast includes Fatima Effendi and veteran actor Syed Mohammed Ahmed as part of the long list. From the looks of the trailer, the drama appears to be a soap opera. However, only time will tell if this will be a regular drama or a soap opera.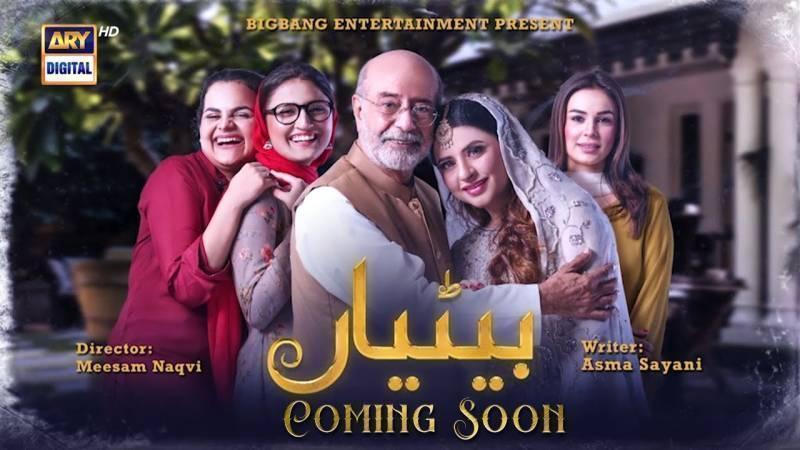 Here is everything you need to know about the drama serial Betiyaan and what you can expect from it.
What is the Cast of Drama Serial Betiyaan?
The cast of the drama serial Betiyaan features some big and new names of the industry. In between them, we have some names that are slowly but surely making a name in the industry. Regardless of this, all of the actors and actresses have a huge fan following all over the world.
Here is the complete cast of the new drama serial.
Fahad Sheikh
Fatima Effendi Kanwar
Mah-e-Noor Haider
Qudsia Ali
Tania Hussain
Syed Mohammed Ahmed
The drama follows the life of a father and his four daughters. Syed Mohammed Ahmed portrays the role of the father whereas Fatima Effendi and more are portraying the role of his daughters. More will be revealed about the story in the upcoming teasers.
Who Wrote the Drama Serial?
The drama serial is written by Asma Sayani who has previously written multiple hit drama serials. Some of her best works include Ghalati, Qismat, Yeh Ishq, Intezaar, and more.
Who has Directed Betiyaan?
The drama serial is directed by Meesam Naqvi. This is the first drama serial he is directing and there are big expectations attached to the project.
Who Has Produced the Drama Serial?
The drama serial Betiyaan is directed by actor Fahad Mustafa. This is not the first time he has produced a drama serial, but it is the first time he has produced a drama serial alone. The drama serial is made under the banner of BigBang Entertainment.
Some of their biggest hit drama serials include Main Haari Piya, Azmaish, Dunk, Aulaad, Jalan, Ishqiya, Cheekh, and more.
What is the Timing of the Drama Serial?
Betiyaan will be aired on ARY Digital on 3rd October 2022. The timing of the drama serial as well as its OST will be revealed soon.