Telenor Monthly Extreme Plus is the latest monthly package by Telenor that will cater to its customers who want a big package with little price. Telenor Pakistan is a telecommunications company that provides mobile and data services in Pakistan.
The company offers a range of services, including voice calls, SMS messaging, mobile internet, and value-added services such as music streaming and mobile banking. Telenor Pakistan also operates a 4G/LTE network, providing its customers high-speed mobile internet. This new monthly package is one of a kind and is a great way to cater to its customers all over the world.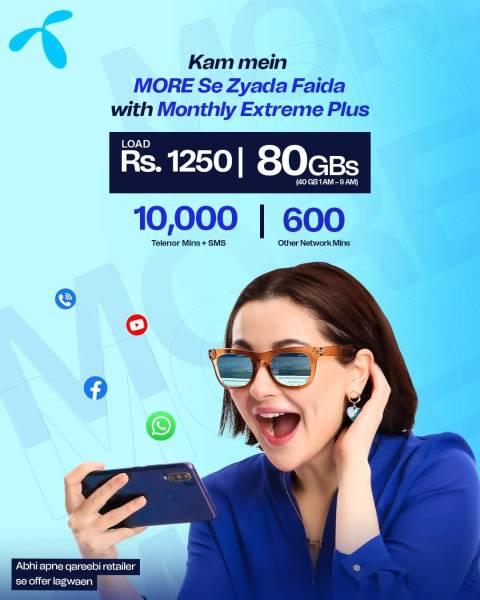 Here is everything you need to know about the Telenor Monthly Extreme and what you can expect from it.
Telenor Monthly Extreme Plus Offer
The offer is exclusively for My Telenor App users as well as Easy Paisa users. Perfect for people who want a bang for their buck, the new offer gives plenty of free data, minutes, and SMS to last for the whole month.
When you subscribe to the Telenor Monthly Extreme Plus offer, you will get:
10,000 Telenor to Telenor Minutes
600 Free Other Network Minutes
10,000 SMS
80GBs of Data
40GB of data will be reserved for use between 1 AM to 9 AM
The price of the offer is Rs. 1250
The offer will remain valid for 30 Days
Meta: Telenor YouTube Packages 2023 – Daily, Weekly & Monthly Packages
What Did You Need to Know About This Offer?
Here is everything you need to know about the Telenor Monthly Extreme Plus before subscribing to and using it. Read these before you decide if this offer is for you or not.
Every Telenor GSM Prepaid customer is eligible for this offer.
Call Setup Charges are not applicable for this package
Customers who take this package via recharge/Load/Retailer shall have their existing recharge validity enhanced up to a maximum of 90 days.
Price & Resources may vary based on geographic location
Standard tariff for offnet/onnet calls & data as per customer's price plan will be charged once the offer exhausts or expires
This package can be subscribed to multiple times within the validity
This package will not be renewed once it expires
Upon re-subscription within the validity, the offer will be again valid for 30 days (Leading up to midnight 23:59 of the last day). The new offer is available all over Pakistan. However, you will need the My Telenor App or the Easy Paisa app to subscribe to it.