2017 year is about to end soon, in a few month, and have you ever gave a minute of thought to yourselves that which drama did you liked the most in 2017? Or did you literally have so much time to watch each television drama? I am sure; no one would choose to sit like a potato sack for watching tens of drama serials unless there are several ingredients of excellent writing, direction, style and performances that stand out among the best of drama serials.
No doubt, the acting skills and stories of our television have been evolved from the past decades and many entertainment channels have provided quality work on screens. Well, today we are not going to exaggerate the efforts and potentials of directors and media here, but we have short-listed the Top 8 Most Liked Pakistani Drama Serials of 2017. These drama serials are really a complete entertainment package, from romance of O rang reza to comedy of Bulbuley. So let's dive into the list of these Top 8 Most Liked Pakistani Drama Serials of 2017, which do worth a must-watch label…
8- Waada
A dramatic drama serial of ARY  Digital casting Shaista Lodhi as Sumaira, Faisal Qureshi as Shahab, Saboor Ali as Jaana has been proved a favorite family serial that involves a story of loving husband been trapped by a maid! The very first episodes of drama left viewers heartbroken, watching Shaista Lodhi in lead role, but the story and performance of drama has amazed the viewers displaying cheap tactics of maid and loyalty of a wife towards a confused man.
7- Saya-e-Dewar Bhi Nahi
Based on Saya-e-Dewar Bhi Nahi by Qaisara Hayat, this drama serial has been a good substitute of blockbuster drama serials of Hum TV. Display societal norms of our society, the drama revolves around a orphan girl who was adopted by Syed sahib who later on did not accepted her as daughter in law for being of different caste. Starring Ahsan Khan, Naveen Waqar and Emmad Irfani in main plot of the serial, Saya-e-Dewar Bhi Nahi has proved a great piece of entertainment industry.
6- Sammi
After a blockbuster drama 'Udari', Sammi deserves a credit for saving people against boredom. Comprising of 20 episodes, the drama has gone through many ups and down throughout the story, as there was always a new twist in every episode. Mawra Hocane in protagonist role along with many seniors artists, have proved that Pakistani Film industry do have great potentials. Loaded with several poignant moments, Sammi do worth a watch for watching how much a person can be tested and how can romantic fairy tale turns into an unexpected trauma.
5- Choti Si Zindagi
A simple drama promoting the vibe of having faith in your Lord and lessons of leading a positive life, was so much fun in 2017. The very 28 episodes of such beautiful drama has left the viewers to look for positivity and sacrifices in life, despite of mourining over worldly desires. Exhibiting the time of 1970's, the drama has beautifully depicted a flashback of old times for narrating a logical family story of romance and social problems to audience.
4- Khaali Haath
The very favorite Aiman Khan, heartthrob of youth has made this drama most liked serial of 2017! The drama is all about unveiling hazards of negative passions, especially one sided love than often turns into obsession. Without making a boring aura, the drama has moved forward in fast pace, which has always been a plus point for the serial.
3- Rasm E Duniya
The title of the drama suggests 90% plot of the drama, which was all about typical traditions of the male-dominant world! Women have been the target of mental and physical abuse, which still exists in our society. Drama having a sad love story might make you sick of such old story, but what if the women become ruthless tigress in a traumatic story….
2- Laal Ishq
Sequel of Landa Bazaar, a dramatic and best drama of its time; Laal Ishq will always be favorite of people for many years. I personally will not miss a drama serial featuring Saba Hameed and Babar Ali in cast. No doubt, Saba Hameed being a finest artist has taken the serial to a new height by her great potential…. Penned by the celebrated writer Khalil-ur-Rehman Qamar and directed by the talented Dilawar Malik would not need much support in their appreciation… In mood to watch something unusual that hate-love plots, the super hit drama will never make you bore for sure.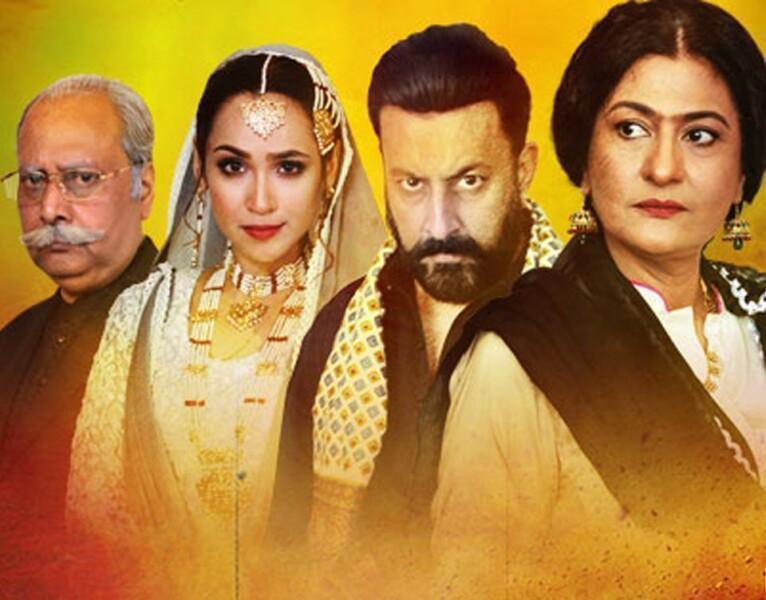 1- Yaqeen Ka Safar
This drama is going to be in the play list for a long time… the drama of 29 episodes in total has been basking in the success of being Pakistan's most popular drama at the moment. A drama featuring lawyers later murdered by a fraudulent politician, murder and rape case and a mother experiencing shock of sudden death of her daughter has touched the very hearts of Pakistani audience and even in overseas. Dr Ahmer (Rahat Kazmi) and Zoya (Marina Khan) did a great job in changing the paradigm of Pakistani dramas!
Also Read: Top 10 Favorite Iconic Pakistan Drama Serials