For the first time ever, Toyota has introduced the all-new Crown, and would release crown (Crossover type) as the company's debut model in the fall of 2022. During the manufacturing of new crown, the development staff carefully re-examined what basically 'crown' is. And during their search for 'Crown for a new age' they built 4 entirely new models. The Sport delivers a sporty experience of driving with an appealing ambience and an extremely simple driving package.
The innovative new Crown (Crossover type) combines a SUV and Sedan and delivers new values that are unrestricted by conventional ideas. It has powerful style with big wheels.

Exterior of Toyota Crown
In order to achieve fluidity and dynamism, the sleek, coupe-like profile is blended with elevated style that exudes a feel of strength, representing a totally new design of a flagship automobile for a modern age. The side view, which shows sophistication through surface diversity without depending on character lines, and the taillights, and the headlights which are connected from left to right in a single straight path, work together to form a simple yet elegant and magnificent design.
Application of Innovations
Large-diameter tires have been used, defying the stereotype of a sedan. By adding innovative technologies to the body framework to develop an underbody that extends outward close to the body sides and closely assessing the balance of all the spaces present between the tires and the body, company has developed a powerful design that is neither a SUV nor a Sedan with the sense of stability characteristic of an elevated sedan.
Interior of Toyota Crown
The layout can be operated easily from any seat owing to the horizontal integration of the operational equipment and display. The driver can concentrate on driving while the passengers may move around in comfort. And enjoy themselves due to the wrap-around design from the dashboard to the doors.
Seat Designs
Careful attention to every interior detail, such as the subtle and welcoming Warm Steel decorations, a wonderfully shaped and comfy shift knob, seats that emphasize on instantly identifiable finishing and give a sense of safety when seated, and other features, helps form a space with richness and quality.
Colors
The newly designed "Precious Ray" and "Precious Bronze," along with other distinctive bytone hues, are combined. This combination is prepared to represent the transformation of new crown.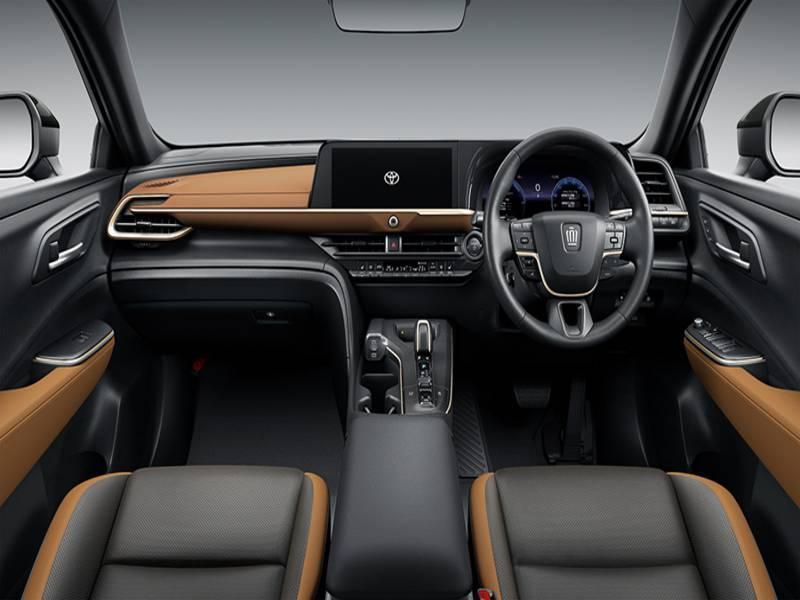 Hybrid System
The Crown is fitted with a high-efficiency, optimized hybrid system and a specially developed nickel-hydrogen battery. This bi-polar battery offers class-leading fuel efficiency and quietness and further expanding the premium and comfortable driving performance.
Newly designed Platform
Entry & exit are made simpler and exceptional visibility is made possible by using a hip point higher than in preceding sedans, which was made possible by the use of large-diameter wheels. To provide a comfortable interior space, additional space is given above the head and to the front and back.
Toyota Teammate
Toyota Teammate, a collection of driver-assistance advanced technologies, is included in the new Crown.
Advanced Drive*3
It supports secure driving in traffic jams.
Advanced Park*3
New Crown is also equipped with Advanced Park*3, that parks and exits automatically from parking areas in different parking circumstances. It can also be operated remotely, as well as other safe and practical advanced functions.