Ufone has launched Internet Max offer for their consumers. Ufone is one of the leading telecommunication companies in Pakistan. They offer some of the best and the most cohesive offers to their customers. Ufone has a wide variety of packages and bundles that are focused on offering the best services to their clients.
The Internet Max Offer is a brand-new addition by Ufone. This is a weekly offer that will be perfect for streamers and TikTokers who want to enjoy endless data without fear of running out of data. If you are a streamer and you are looking for a new package that will cost you very little, this might be the one for you.
Enjoy non-stop streaming, gaming, downloading and so much more with Ufone Internet Max Offer for the whole week.
To Subscribe, visit: https://t.co/zqldmH5Ogx#Ufone #InternetMaxOffer #TumHiTouHo pic.twitter.com/V8qNkj9fYU

— ufone (@Ufone) March 3, 2021
Here is what you will get from this new package by Ufone.
Internet Max Offer
The Internet Max is a new offer that will make it much easier for you to stream your videos and use your social media for the whole week without running out of data. In this package, you will get:
25GB data from 1 am to 9 am
7 Days Validity
Charges for this new offer is Rs.70.
You can subscribe to this new offer by dialing *2570# from your Ufone SIM. The Internet Max offer will only work for prepaid customers. You can take multiple subscriptions of the package if you run out of your data in a few days.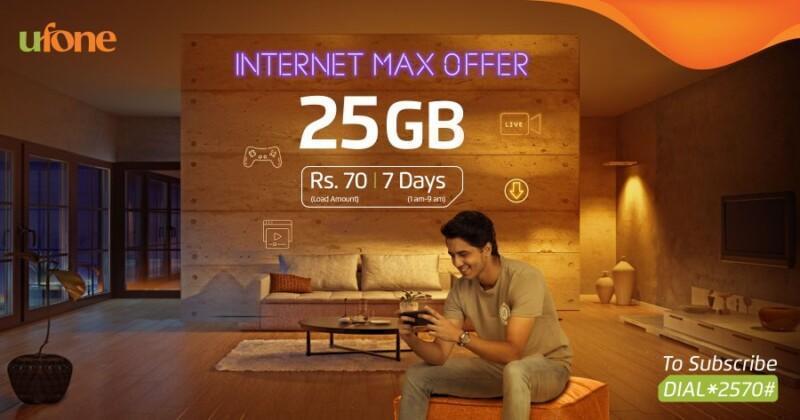 There are no hidden charges. The Rs. 70 for the subscription are inclusive of tax. If you want to check your remaining data, all you have to do is dial *706# and see how much data is remaining.
With this package, you can enjoy uninterrupted internet for the whole week. You enjoy this service for both 4G and 3G services in your area.