Gorgeous and talented, Zara Noor Abbas does not need any introduction. Coming from a family that is known for incredible acting skills and presence on the screen, Zara took the world by storm when she made her debut in 2016. Since then, she has never looked back.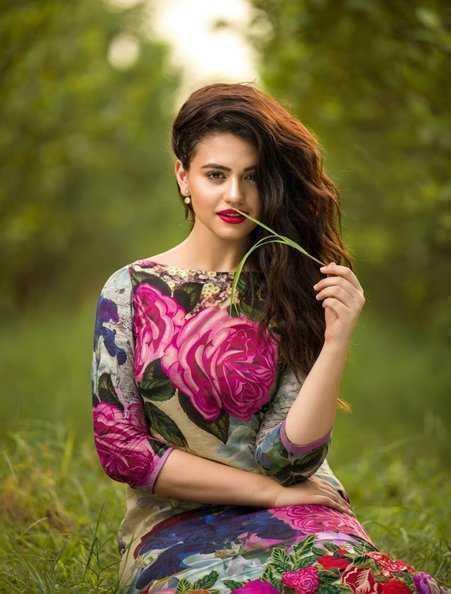 Debuting in a lead role is a privilege that not many people get, but Zara Noor Abbas got it because of her talent and good looks. She is also one of those new and upcoming rising stars of Pakistani drama industry that have made an important place for themselves in the industry.
Here we will take a look at Zara Noor Abbas's life, biography, career, age and relationship status.
Biography of Zara Noor Abbas
Age
Zara Noor was born on 13th March, 1991 in Lahore, Punjab. She is currently 30 years of age and she is already a critically acclaimed actress in Pakistan and everywhere else in the world. Her zodiac sign is Pisces and like a true Lahori, she enjoys food of all kinds She is 5 feet 8 inches tall, which makes her a tall woman in the Pakistani community at large.
Family and Parentage
Zara Noor Abbas belongs to a well-educated family that is already involved with media and acting industry in Pakistan. She is the daughter of versatile actress Asma Abbas and Colonel Abbas Gill. She has three other siblings. Other notable family members include Bushra Ansari and Ahmad Bashir, who was a writer and journalist.
Her mother Asma Abbas was diagnosed with cancer and she successfully recovered from it in 2018.
Education
Zara Noor Abbas comes from an educated family. She has a bachelor's degree in Film Design from Beaconhouse National University. Her chosen optional subjects were film making, theater and dancing.
Marriage and Relationship Status
Zara Noor was married very early in her life. Her first marriage was before she joined showbiz industry. After her marriage, Zara moved abroad with her husband. She always wanted to become an actress and she only married her first husband because he promised to support her dreams.
However, she realized marrying for such reasons was wrong, came back to Pakistan and got divorced. According to Zara Noor, she believes that was a good decision and she believes it changed her life for the better.
She got married for the second time and this time it was for all the right reasons. She met Asad Siddiqui, nephew of veteran actor Adnan Siddiqui. Asad is also an actor, who was also married before but got divorced as well.
The couple got married in 2017 and since then, they have been blissfully happy. It is rumored that they are expecting their first baby together, but they have not made any official announcement regarding that.
Becoming An Actress
Zara Noor Abbas became an actress in 2016 with a lead role. She rose to the higher ranks very quickly and she has become a fantastic actress because of that. As of now, she has appeared in 9 dramas and two films. Here is a breakdown of each of these drama serials:
Dharkan | Hum TV | Lead Role | Appeared as Areen and was starred opposite Adeel Asghar, Omer Farooq and also appeared next to Waseem Abbas, Javed Sheik and more.
Khamoshi | Hum TV | Lead Role | Appeared as Arsla and was starred opposite Affan Waheed and also appeared next to Iqra Aziz, Bilal Khan, Tauqeer Nasir and more.
Lamhay | Hum TV | Lead Role | Appeared as Aleena and was starred opposite Shaz Khan and also appeared next to Saba Faisal, Mizna Waqas, Saife Hassan, Kaif Ghaznavi and more.
Qaid | Geo Entertainment | Lead Role | Appeared as Rehaam and was starred opposite Syed Jibran Shah and also appeared next to Waseem Abbas, Marina Khan, Gul-e-Rana, Nida Mumtaz, Mariam Ansari, Farah Nadeem and more.
Deewar-e-Shab | Hum TV | Lead Role | Appeared as Feroza and was starred with actors such as Nausheen Shah, Bushra Ansari, Shahzad Sheikh, Sarah Khan, Asma Abbas, Kinza Hashmi, Zainab Qayyum, Shahroz Sabzwari, Tara Mahmood and more.
Ehd E Wafa | Hum TV | Lead Role | Appeared as Rani and was starred opposite Osman Khalid Butt and appeared next to Ahad Raza Mir, Ahmed Ali Akbar, Wahaj Ali, Alizeh Shah, Vaneeza Ahmed, Humayun Saeed and more.
Zebaish | Hum TV | Lead Role | Appeared as Noushaba "Noushi" and was appeared alongside Asad Siddiqui, Bushra Ansari, Asma Abbas, Zoya Nasir, Baber Ali, Qavi Khan, Adnan Shah Tipu, Shabbir Jan, Alyy Khan and more.
Dil Tera Ho Gya | Geo Entertainment | Lead Role | Appeared as Roma opposite Feroze Khan and appeared next to Saba Faisal, Jawed Sheikh, Shaheen Khan, Farhan Ali Agha and Mizna Waqas.
Phaans | Hum TV | Lead Role | Appeared as Zeba and appeared opposite Sami Khan and appeared along with Shehzad Sheikh, Yashma Gill, Arjumand Rahim, Ali Tahir, Kinza Malik, Mariam Mirza, Farah Nadir and more.
Here is a breakdown of these films:
Chhalawa | Hum Films | Supporting Role | Appeared as Haya and starred opposite Mehwish Hayat, Azfar Rehman, Asad Siddiqui, Aashir Wajahat, Adnan Shah Tipu, Mehmood Aslam and more.
Parey Hut Love | ARY Films | Supporting Role | Appeared as Shabbo and starred opposite Sheheryar Munawar, Maya Ali, Ahmed Ali Butt, Nadeem Baig, Hina Dilpazeer, Durdana Butt and more.
She is also set to appear in an upcoming movie called Aa that is directed by Haseeb Hassan. The movie is currently being filmed and more information will be revealed soon.
Awards
In her 5 years career, Zara Noor Abbas has been nominated twice and received an award once. She was nominated for Best Supporting Actress for Chhalawa at the Pakistan International Screen Awards. She won the award for Best Supporting Actress for her role in Parey Hut Luv at the Pakistan International Screen Awards.