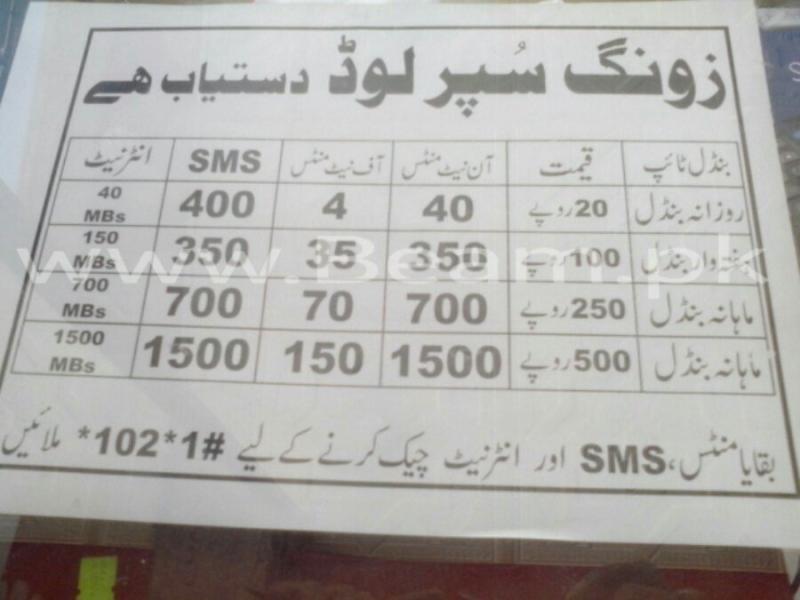 After the success of Ufone super card offer in which customers received SMS/MBs and free Minutes for both onnet and offnet, Zong brings the same kind of offer to their valued customers.
In Zong super card customers gets the same benefits like Ufone Super Card instead of getting balance customer will received free resources.
Zong super card/load is available in Rs. 500/month and mini super card/load at Rs. 250/month. Daily and weekly bundles are also available.
Offer Details:
Daily Bundle:
Daily Charges: RS.20
On-net minutes: 40
Off-net minutes: 4
Free SMS:400
Free MBs:40
Weekly Bundle:
Weekly Charges: RS.100
On-net minutes: 350
Off-net minutes: 35
Free SMS:350
Free MBs:150
Monthly Bundle:
Monthly Charges:RS.500
On-net minutes: 1500
Off-net minutes: 150
Free SMS:1500
Free MBs:1500
Monthly Mini Bundle:
Monthly Charges: RS.250
On-net minutes: 700
Off-net minutes: 70
Free SMS:700
Free MBs:700
To Check Remaning Mins/SMS/MBs: Dial *102*1#
Note: Zong Super Load is available but zong super cards are not yet available in the market. Ask retailer for zong super load of your desired amount.
[Zong All-In-1 Bundles which can be activated by dialing *6464# and than press 3, also have same bundles. By dialing this you can activate it by yourself. Taxes are included in all bundles except Monthly 599 and Monthly 799 which are not available through Zong super load and activation only possible by dialing *6464#]
Click here for Telenor EasyCard/Super Load offer