Aiman Zaman is a young and talented Pakistani actress who might have started her career with television but gained popularity from a popular social media app Tik Tok. She makes videos with her rumoured boyfriend. She is a brilliant actress who has done a few dramas and performed supporting roles.
Zaman has come from a non-artistic background yet her talent and hard work has given her huge success and popularity. She is also one of the noted tik tokers who have millions of followers. However, she is often criticized for making videos with her boyfriend.
She is a tall girl who is perfect to be a star. Let's talk about everything about this new sensation and how she started her showbiz journey and what difficulties she faced.
| | |
| --- | --- |
|             Name |                   Information |
| Actress Name | Aiman Zaman |
| Career: | Actress, Model  and Host |
| First Drama: | Soteli Mamta |
| Born: | 2nd January 1992 |
| Lives In: | Karachi |
| Education: | Malir Cant College |
| Known For: | Making tik Tok Videos |
| Boyfriend: | Mujtaba Lakhani |

Aiman Zaman Biography
Aiman is a good-looking and young Pakistani actress, model, Tik toker and host who is started getting recognized in 2020. She started her journey of showbiz with the drama Soteli Mamta after which she got many offers. With time, she is getting more and more hype.
However, like many other celebrities, she also got targeted with harsh words that she hardly bothers. Aiman has a huge fan following on her every social media account. Currently, she is doing only supporting roles but we are hoping to see her in the lead roles as well.
Aiman Date of Birth
She is a young star who was born on 2nd January 1992 in Karachi. She is living in the same city.
Education
Aiman joined Showbiz after completing her education at Malir Cantt College.
Aiman Zaman Family
She is from a middle class and ordinary family who have no links in showbiz. Her entry is showbiz was all because of her hard work and talent.
Aiman Zaman Boyfriend
She is in a relationship with a Tik Tok star Mujtaba Lakhani who is also a model and lives in Karachi. According to rumours, the couple lives together without tying the knot for which they are badly criticized on social media.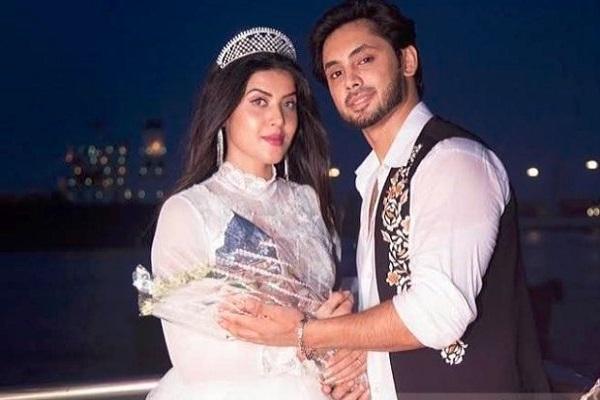 Career
Television
Aiman started her journey from showbiz and got success after a few dramas. Her first serial was Soteli Mamta after which she started getting offers from various channels. Aiman is a talented star who is surely gonna rule the industry after a few years. Right now, she only got supporting characters.
She was also seen in the blockbuster movie Baaji starring Osman Khalid Butt, Amna Ilyas, Meera and a few more.
Tik Tok
In 2020, she made an account on popular social media Tik Tok and started making videos there. She got huge success from that app and people know her from her videos on that app. She makes videos with other Tik Tok stars as well. However, she is mostly seen with her rumoured boyfriend.
As a Model
She is also a model who keep doing photoshoots with different notable brands. She has also done some shoots with Mujtaba Lakhani. Besides this, she has also appeared in a few song videos.
Aiman Zaman Dramas
The list of her few dramas where she appeared are as follows:
Soteli Mamta
Mohabbat Khel Tamasha
Mera Wajood
Tamanna
Chamak Dhamak
Aiman Zaman Movie
Aiman might be a new star in the town but the way she is progressing is worth appreciating. We are hoping to see this young star more and more in dramas in the lead roles.