After ruling on the motorcycle market in Pakistan for decades, Atlas Honda has launched its new motorcycle. People are already using its successful models in the category of 70cc, 125cc and a fast emerging 100cc bike. Moreover, Atlas Honda Ltd. has recently launched a new elegantly designed and fancy looking Honda 150cc motorcycle to cater to the higher end segment.
Atlas Honda 150cc Motorcycle Launched in Pakistan
The new self-start Honda 150cc motorbike based on most recent innovation not just gives a steadier ride and best efficiency in its class additionally gives remarkable safety and security components to fit prerequisites of Pakistani clients, the organization expressed in an official statement on Wednesday.
Let's list its salient features:
CB150F inherent Turbo Engine Technology
ASV & ACV used for best engine performance
High Performance Self Start System using multiple roller bearings and spark-less brushes
5-speed constant mesh
Noncyclic Transmission for smooth gear shift
Maintenance Free powerful backup battery
Die casted "Z Section Spokes" alloy rims best suited for Pakistani roads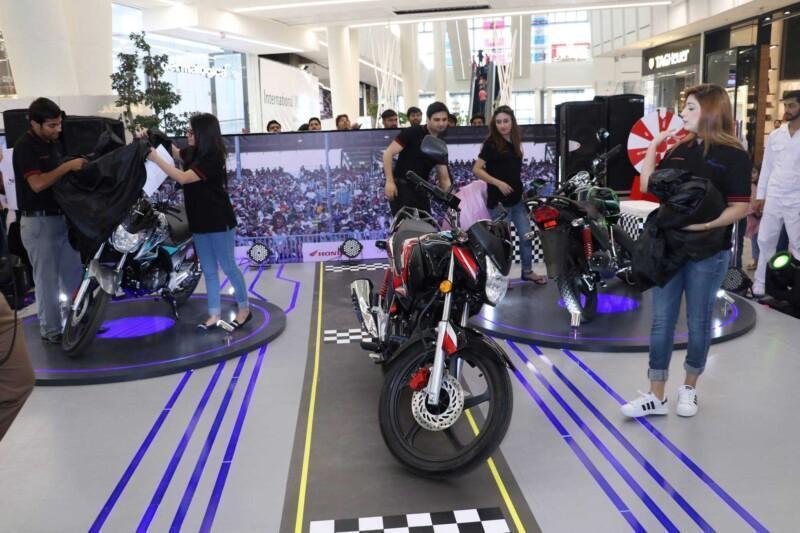 Moreover, the bike is packed with a number of safety features that cater to local needs. The magnetic ignition protection ensures use of only the original key to operate bike. So, this feature makes your bike's security system more safe than usual.
Furthermore, it is geared up with:
Front disc brake
Car type speedometer visibility
Strong tail protection
Protective chain guide system ensures a great riding experience with peace of mind
According to press report:
Afaq Ahmed GM Plants Atlas Honda said,
The annual capacity of Atlas Honda plants after the expansion is 1.35 million units per annum and production figures of last year were 920,640 units. Talking about their plans for the export of this and other models, he said that they are already exporting some existing models to Afghanistan and Bangladesh.
Furthermore he said, "We have a dedicated department that keeps on looking for opportunities for exports. We are looking forward towards that aspect as well. We exported 6456 units in 2015-16 and 7321 units in 2016-17," he added.
"Atlas Honda has always pioneered the efforts to bring technology and employment to the country as a part of Atlas Group's philosophy. Our claim is amply supported with localization of complex components like clutch, CDI unit, Regulator Rectifier, Ignition coil and many others," Afaq highlighted.
Price of CB 150F is Rs 159, 000.