Drama serial Azmaish is joining the long list of new dramas that will be airing right after Eid. With most of the channels wrapping up their Ramadan special serials, every channel is sharing teasers of their upcoming dramas to entice the audience to watch it.
After successfully launching teasers for a couple of serials, ARY Digital is now focusing on Azmaish as their main prime time drama on their major days. The drama is coming to us with a fantastic cast of some of the biggest names of the industry.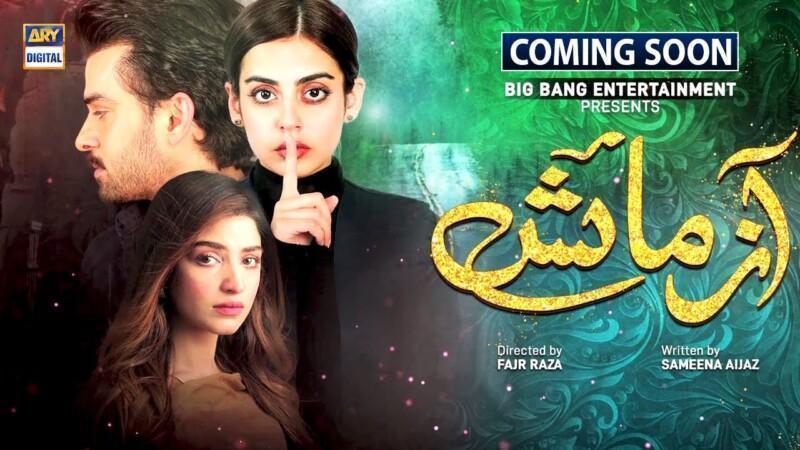 Here is what we know about the new drama serial and what you need to expect from it.
Cast of Drama Serial
The cast of the new drama serial Azmaish features some of the biggest names from the drama industry, however, you can see some promising new names as well. A lot of the actors and actresses are fan favorites and some of them are finally making a comeback with this new drama.
The cast of the drama will include:
Kinza Hashmi
Yashma Gill
Danial Afzal Khan
Fahad Sheikh
Gul e Rana
Shahood Alvi
Tabbasum Arif
Zia Gurchani
Laila Wasti
In the drama, Kinza Hashmi is playing the role of Nimra, Yashma Gill portraying Shiza and Fahad Sheikh is playing the role of Basit. Yashma Gill is appearing as a strong antagonist, a certain role she is very much acclaimed to present.
Details of Drama Serial Azmaish
The story of the drama follows the life of Nimra who is shown as a kind girl. Her mother married another man to give a better life to Nimra, but things are not going well for either of them. Because of the mistakes of her father, her step father does not like her and her step sister is cunning enough to torture her and belittle her.
The drama serial Azmaish is written by Sameena Aijaz and is directed by Fajar Raza. The drama is produced under the banner of Big Bang Entertainment. The drama serial will be aired on Ary Digital sometime in May so we have plenty of time for more teasers.