After successfully introducing two new drama series just a few days ago, Ary Digital has released first two teasers of their upcoming drama serial Pardes. Coming to us with a star-studded cast featuring some of the biggest and most anticipated names in the industry, the new drama promises to be an emotional rollercoaster that we will definitely love.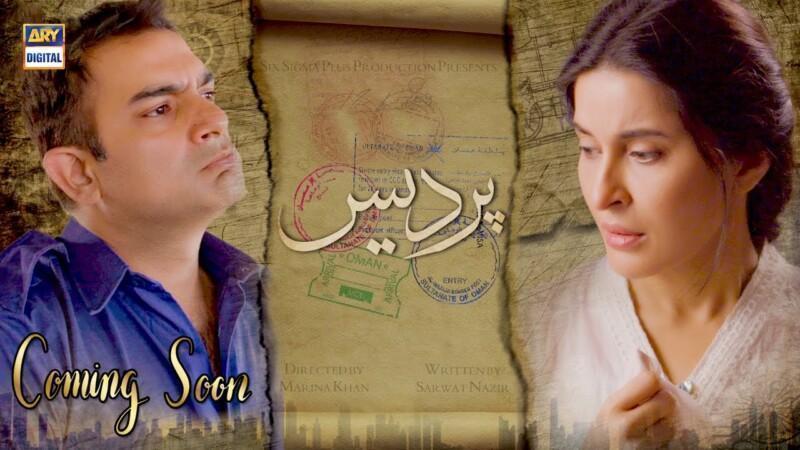 The drama is focusing on one of the biggest social issues families in Pakistan face every day. With poverty rising and the expectations of families rising every day, the breadwinner of the family has to make sone big sacrifices. This drama focuses on this issue above everything else.
Here is what we know about this new drama and what you can expect from it.
Cast of the Drama Serial
The cast of the drama serial Pardes will include some of the biggest names in the industry. The actors and actresses in the drama have been away from the public eye for years and they are finally making a comeback in the industry with this new drama on Ary Digital.
Here is the amazing cast of drama serial Pardes.
Sarmad Khoosat
Shaista Lodhi
Affan Waheed
Dur-e-Fishan Saleem
Jeenan Hussain
Gohar Rashid
Hina Javed
Bushra Ansari
Atiqa Ado
Shaista Lodhi is playing the role of Zubaida a.k.a. Zubi who is the wife of Ahsan who is portrayed by Sarmad Khoosat. Dur-e-Fishan Saleem is playing the role of Aimen, Goshar Rahid is playing the role of Asim who is brother of Ahsan. Bushra Ansari is playing the role of the matriarch of the household.
Details of the Drama Serial Pardes
The story of Pardes will follow the lives of Ahsan and Zubi's family. Living in joint family, Ahsan is the sole breadwinner of the family with his younger brother refusing to find a job and a younger sister to marry. His own wife and daughter are very understanding, but he has constant pressure from his mother to do better.
In an effort provide a better life for all of his family, he decides to move abroad to Muscat, Oman to fulfill the expenses of his family. The drama focuses on the lives of such people who leave their families behind to provide them a better life and shows how tough it is for all of them to survive without each other.
The drama serial Pardes is written by Sarwat Nazir and is directed by Marina Khan. The drama serial is produced under the banner of Six Sigma Production. It is expected to be aired sometime in May.
Ayeza Khan Upcoming Drama Serial Lapata – Cast, Story & Timing