State Bank of Pakistan unveiled Asaan Mobile Account in Karachi in a special ceremony. While the plan for these accounts was announced in 2017, the state has only been able to make it possible right now. The account was launched by Chairman NADRA Mr. Muhammad Tariq Malik, Chairman VRG Mr. Ikram Sehgal and many other officials from PTA, Presidents and CEOs of 13 major banks of Pakistan.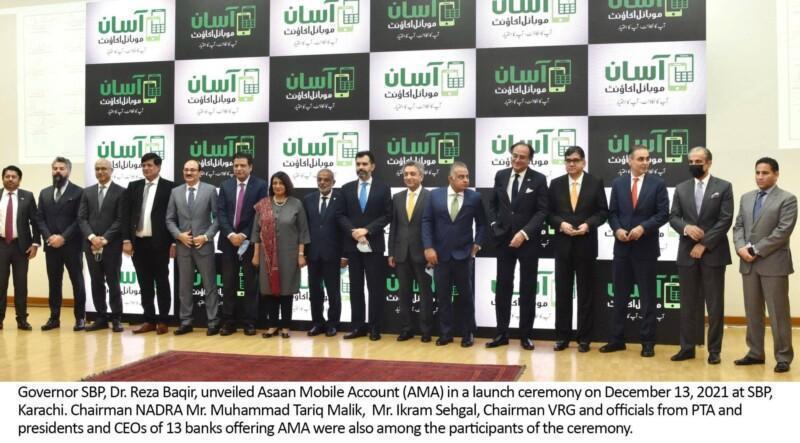 The Initiative was developed by National Financial Inclusion Strategy to introduce branchless banking. Anyone with the Asaan Mobile Account will be able to open and operate their accounts from their homes and without having the need to visit any branch of any bank.
How to Open an Asaan Mobile Account?
The Asaan Mobile Account is a useful and very commendable service that is being offered to Pakistanis. The account holder must have a valid CNIC to open an account with any of the participating banks and must have a registered mobile number.
Here is what you need to do to open your account:
Dial *2262#
Choose the option "Register New Account."
Select the bank of your choice.
Enter your CNIC details.
Finish the registration process.

Banks That Offer the New Bank Account?
Once you dial *2262# from your phone, you will get the option to choose from different banks and ewallets to choose from. You can make an Asaan Mobile Account in the following banks and ewallets:
Bank Alfalah
Easy Paisa
Jazz Cash
U Bank
Konnect by HBL
Meezan Bank
Finca
UBL
MCB Bank
Askari Bank
JS Bank
First Pay by FMFB
Allied Bank
What Can You Do with the Asaan Mobile Account?
With this account, the users can enjoy a variety of benefits. Meant to be used as any ewallet, these accounts will make it easier for the people to manage their money without going to banks. These will be perfect for people who don't have access to commercial banks and still want to use their services.
With this account, you will get the following benefits:
Withdraw or deposit cash to your account.
Transfer funds to any bank in Pakistan from your mobile phone
Pay utility bills
Pay for postpaid mobile bill
Top up mobile balance
Get your account statement by also dialing *2262#
Transaction and Balance Limit of Asaan Mobile Account
The following are the transaction and balance limits of the account that will be available. These are the limits of a newly opened account:
Limits
Details
Daily Limits
Deposit: PKR 25,000
Withdrawal: PKR 25,000
Monthly Limits
Deposit: PKR 50,000
Withdrawal: PKR 50,000
Yearly Limits
Deposit: PKR 200,000
Withdrawal: PKR 200,000
Maximum Account Balance
PKR 200,000