Drama serial Dhoop Ki Deewar is a brand-new drama that will be aired as a web series. The cast includes Sajal Aly and Ahad Raza Mir, this is going to be their first appearance together after their marriage last year. The couple decided to stay away from the eyes of the public for some time after they got married, but things have changed now.
The story is not unique as it is a love story set across borders, but the premise is new, which is making this story interesting to watch. The fact that this drama will be aired on Zee5, an Indian channel that is a subsidiary of Z TV is creating hype about the drama serial in both Pakistan and India.
Here is what we know about the drama serial Dhoop Ki Deewar and what you can expect from it.
Cast of the Drama Serial
The drama serial will feature an all-Pakistani cast and crew. The cast includes some great names from the Pakistani drama industry and show the world the real talent our country has when it comes to acting and directing talent.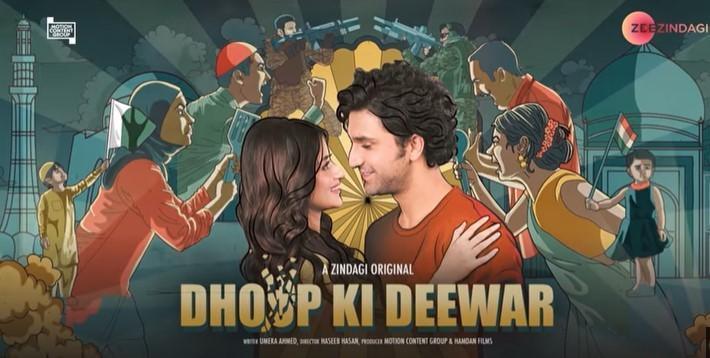 Here is the complete cast of the upcoming drama serial Dhoop Ki Deewar.
Ahad Raza
Sajal Aly
Samiya Mumtaz
Zaib Rehman
Savera Nadeem
Samina Ahmed
Annie Zaidi
Manzar Sehbai
Aly Khan
Raza Talish
Adnan Jaffar
Paras Masroor
Zoya Nasir
Zara Tareen
Sami Khan
Anoushey Rania Khan
Ahad Raza Mir will play the role of Vishal Malhotra and Sajal Aly will play the role of Sarah Sher Ali.
Details of Dhoop Ki Deewar
The drama serial was announced back in director Haseeb Hassan back in 2019. At the time, there was immense pressure on both Sajal Aly and Ahad Raza Mir to be banned from acting in the drama serial but that changed. The shooting of the series was done in Azad Kashmir, Karachi, Lahore and Swat District.
The drama is written by Umera Ahmad and is produced by Motion Content Group and Hamdan Films. The web series will follow the story of Sarah, a Pakistani girl and Vishal, an Indian guy. Both of their fathers will be in army for their countries and will die in action. The Vishal and Sarah will come close because of their shared grief and soon a love story will begin.
The drama will be aired of Zee5 as a web series. The first episode will be aired on 25th June.