ARY Digital is gearing up to launch their new drama serial Mere Apne very soon. Coming to our TV screens very soon, the drama serial will focus on a very real issue that women in our country face in their daily life.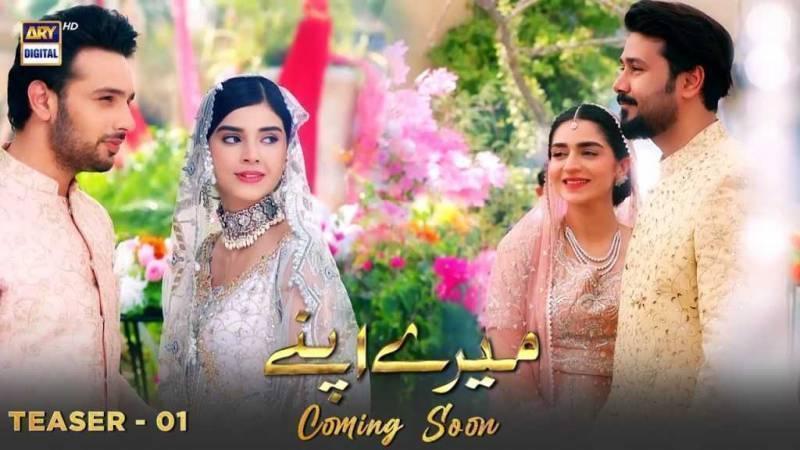 The new drama serial will star beautiful Zainab Shabbir, Ali Abbas and many more talented actors who will wow you with their incredible acting skills. The star-studded cast of the drama serial is promising to make Mere Apne a must-watch series on ARY Digital.
Here is everything you need to know about the new drama serial and what you can expect from it.
Cast of the Drama Serial
The drama serial features some big names from the industry and they are ready to share their talent with us. The cast includes veteran actors as well as some new talent that has worked hard to claim their fame in the media industry very quickly.
Here is the complete cast of drama serial Mere Apne.
Hajra Yamin
Zainab Shabbir
Usama Khan
Ali Abbas
Zoya Nasir
Agha Mustafa Hassan
Waseem Abbas
Arez Ahmed
Inaya Khan
Further names of the cast are expected to be released soon. After a very long time, Waseem Abbas and Ali Abbas will share the TV screen. We rarely get to see the father son duo on TV screens. Both of them are fantastic actors and it looks like we will get to see them in action together very soon.
Details of Mere Apne
The drama serial Mere Apne is going to be the story of two couples as they navigate their married life. The story will focus on two couples that are bound in a marriage that we called vatta satta. The drama serial is promised to be exciting, emotional and full of family dynamics that will make the story interesting for the viewers.
Mere Apne is produced iDream Entertainment and is directed by Mohsin Mirza. ARY Digital has not made any mention of when the drama will be aired and at what time. We are hoping we will get a lot more teasers soon.