Hamza Shafqat, the Deputy Commissioner of Islamabad launched the app for the citizens of Islamabad. National Technology Board developed "Durust Daam" app which was created to clarify the citizens concerning the government assign prices on groceries in Islamabad.

The illegal profiteering has been on the top by the sellers that are leading the citizens to pay additional money on every grocery item than they are required. For this reason people will be able to find the correct cost on every grocery products.

The best think about the app is that it not only tells the correct and updated process of the grocery items but also deliver important commodities at the doorstep without any extra charges to the users in Faisalabad, Islamabad, and Baluchistan.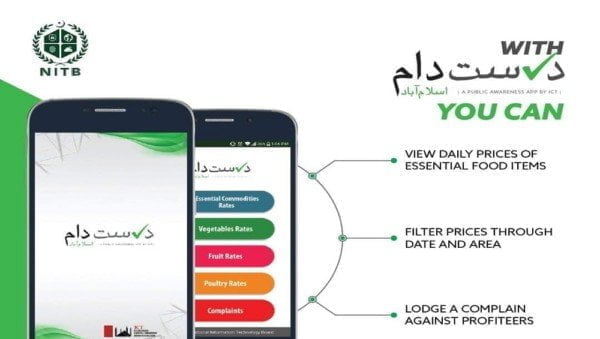 Hamza Shafqat in a press conference said, on every order you can almost save 30% to 40%cost. According to the Commissioner of Islamabad, the people have altogether save Rs.40 million with the help of this grocery app. Durust Daam had partnered with Sabzi Mandi and Fowrry online promising shopping and food startups.

The citizen has been downloaded the app over 17,000 times and averagely, and every day Durust Daam gets 115 orders through the app. By far, the app had still take orders worth Rs. 75 million.

According to Gohar Zaman, Assistant Commissioner of Islamabad, the application keeps a check on the prices of glocery items. He also said that the Durust Daam is still in a experimental stage and has been further upgraded on different platforms of social media for providing information among people.
Read more latest news on Beam.pk.