The first teaser trailer of Green TV's upcoming drama serial Wonderland has been released. From the first look at the story, it looks to be a romance but with a twist. The story is not completely a romance, but a journey of a man who is chasing after a dream.
The drama serial will have just 14 or 15 episodes and each of them will show the story in full detail. While the complete cast list has been released, it is expected that the names will slowly be revealed as more character posters are launched on Green TV's Instagram.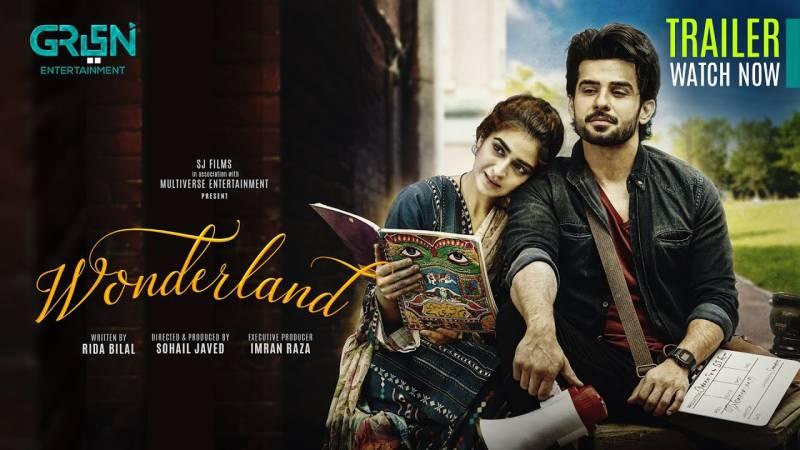 Here is everything you need to know about the drama serial Wonderland and what you can expect from it.
What is the Cast of the Drama Serial Wonderland?
The cast of the drama serial looks to be fantastic and full of favorite actors and actresses who have a huge fan following all over the world. More cast names will be revealed soon and it looks like they will be just as good as the leading actors.
Right now, we only know of Hajra Yamin and Fahad Sheikh. Fahad Sheikh will be playing the role of Rohail, a dreamer who wants to launch his own career as a scriptwriter. Hajra Yamin is playing the role of Sunheri, a young woman who became her own hero.
Who Wrote the Drama Serial?
The drama serial is written by Rida Bilal. Rida Bilal has previously written good drama serials that have done a great business over the years. Some of her best works include Khudgarz, Zakham, Be Inteha, Choti Choti Batain, and more.
Who Has Directed Wonderland?
The drama serial is directed by Sohail Javed. This is just his second drama as a director. He has directed some great drama serials over the years. Some of them are Billo Bablu Aur Bhaiyya, Kaash Aisa Ho, Mera Pehla Pyar, Shab-e-Arzoo Ka Aalaam, Zara Aur Mehrunnisa, Ghamandi and Farwa Ki ABC to name a few.
Read more: First Teaser of Drama Serial Neem Released
Who Produced the Drama Serial?
The drama serial is produced by SJ Films in association with Multiverse Entertainment. The production house has produced dramas such as College Gate, Jindo, 22 Qadam, 101 Talaqain, Jeevan Nagar, and Tumhare Husn Ke Naam.
What is the Timing of the Drama Serial Wonderland?
The drama serial will be aired on Green TV very soon. Its OST will be announced very soon as well. The drama serial is expected to be aired in early June 2023.