There is another great initiative done by the current Pakistani government PTI. On 16th June 2021, the foreign minister Shah Mehmood Qureshi revealed about Foreign Minister's Portal that is specially designed for overseas Pakistanis so that they can register their problem.
On 16th June, the portal was launched, but currently, it is accessible to five Pakistan Missions abroad, including New York, Jeddah, London, Barcelona, and Dubai. These five countries can install this portal and update the PM about their issues and what changes they want.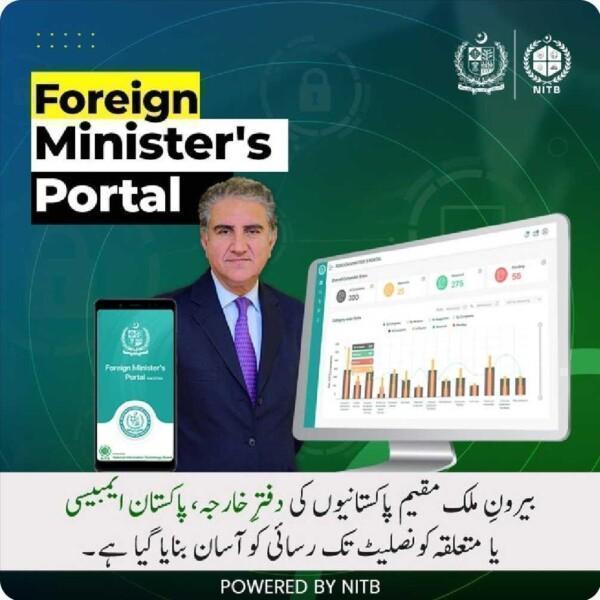 Foreign Minister's Portal
For many people, it will be a totally new thing as no one has ever taken this step before. Pakistani citizens who are living in New York, Jeddah, London, Barcelona, and Dubai can update Prime Minister Imran Khan about the problems that they are facing abroad or what changes they expect from the PM.
You can install this portal from Playstore, and it is also accessible on the iOS store. All types of suggestions, problems, and feedback are highly appreciated and will be responded to. The news about this portal was revealed by Shah Mehmood Qureshi.
However, currently, the portal is in a limited range, but it will be expanded soon to other countries as well, where everyone will be given an opportunity to express their views. The main aim of this portal is to let the PM know what difficulties our overseas Pakistanis face abroad.
It is inevitably one of the most significant and modern ways to handle problems and tackle solutions. It will be a modern area of communication where the PM will look after every problem and will find ways to get out of those problems in a better way. They are also planning to increase the launch of a portal so that every citizen gets a chance to express their views.