Everything You Need to Know About GEPCO Online Bill…!
GEPCO stands for Gujranwala Electric Power Company which supplies electricity to Gujranwala region. Everyone fide it difficult to stand in a long queue for and wait for their turn to pay monthly electricity bill. Almost all electricity companies of Pakistan also developed their online portals for checking online bill. Therefore, Gujranwala Electric Power Company also provided the facility of checking online bill by visiting official site. The consumers can view, pay and download duplicate print of their bills at home when they want. The link of official website of GEPCO. Now you can view, check, download and print your electricity bill from the given link.
Online Bill Checking Method
Now it is possible to check your bill online if you lost your bill accidently. You can check your Electricity Online Bill by performing just a few easy steps. Follow these easy steps and check your monthly electricity bill.
Open your web browser as Google Chrome, Firefox etc.
Open the official website of Gujranwala Electric Power Company.
Now click on this link or go to the customer service portion.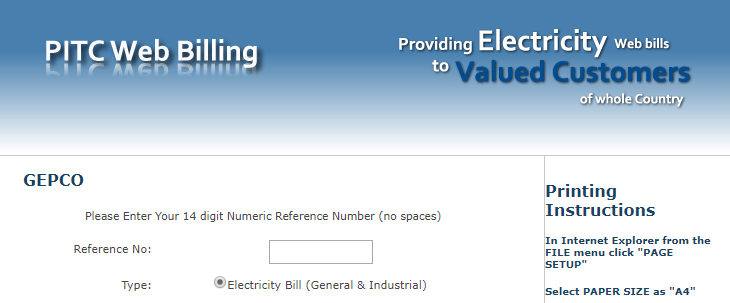 After this click on duplicate bill link. The online billing portal for consumers would be open.
Here you need to enter 14 digit numeric reference number without spaces.
After inserting the reference number click on submit button.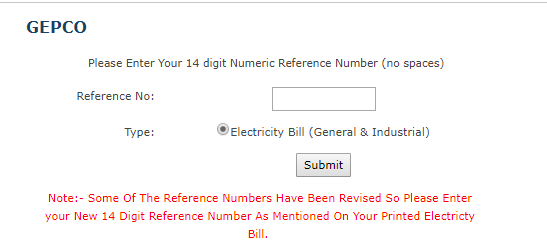 After clicking on submit button your electricity bill would be generated automatically. You can check now your General & Industrial Electricity Bills of recent month.
Printing Instructions
For printing the monthly Electricity online bill just follow these steps as:
From File menu click Page Setup
Select Paper Size A4
Delete the values of Header & Footer
Select orientation as Portrait
Click the Ok button
From the File menu click Print command
You can also download your Electricity online bill in PDF form
Districts Covered by GEPCO
Gujranwala Electric Power Company supplies electricity to these following districts as:
Sialkot
Narowal
Gujranwala
Mandi Bahauddin
Gujarat
Contact Details
Address: GEPCO Gujranwala Electric Power Company 565/A Model Town G.T Road Gujranwala
Manager Operation City Circle GEPCO:
Address: 132 KV Grid Station Shaheenabad
Telephone #: 055-9200553-535-9201210
Mobile #: 0340-0001449
Related Article|How to Check, Print & Download HESCO Online Bill – Details