Honor 70 Series Unveiled
Honor has launched the Honor 70 series consisting of three models. These models are Honor 70, 70 Pro, and Pro+. The only difference between 70 Pro and Pro+ is of chipset and price whereas the Honor 70 is the more affordable option.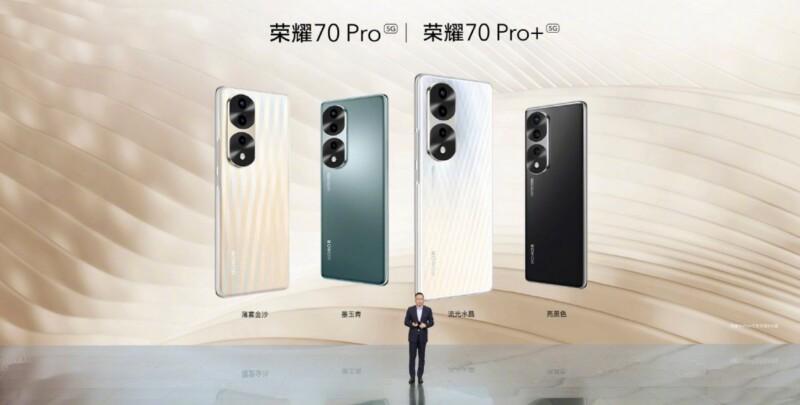 Specs of Honor 70
Although the Honor 70 is a simpler handset in the newly introduced Honor 70 series, it nevertheless offers impressive specifications.
Main Specifications
The phone has a 6.67-inch FHD+ OLED display with 1,920Hz PWM dimming frequency and 120Hz refresh rate. Honor chose Qualcomm's Snapdragon 778G+ processor, which is combined with 256GB of storage and 8/12GB RAM, though you could upgrade to 512GB if you need more. The handset is equipped with 4800mAh battery.
Camera Features
On rear side there is a 54 Mega-Pixels Sony IMX 800 camera. There is also a 2 Mega-Pixel depth sensor and a 50 Mega-Pixel module that simultaneously serves as a macro camera. However, the telephoto module is only available on the higher-end phones. The front-facing selfie camera is 32 megapixels instead of the 50 megapixels seen in the Pros.
Color Options
Color options available for 70 are gradient, blue, green, and black.
Specs of Honor 70 Pro+
A flagship 4 nanometers chipset having a Cortex-X2 CPU core, Dimensity 9000, three A710, Mali-G710 MC10 GPU, four A510, and a latest sub-6GHz 5G modem, powers the Honor 70 Pro+. This handset has 256GB storage and 12GB RAM.
Display
The front-facing 6.78-inch OLED display is a 10-bit screen with 1,920Hz high-frequency PWM (Pulse Width Modulation) dimming and a 120Hz refresh rate. It can show video in the "HDR Vivid" format, which was created mainly by Huawei.
Camera Features
A 1/1.49″ sensor with 54 Mega-Pixels resolution, 1.0 micro pixels and Sony IMX800 is used in all three variants. It's featured in the main camera, where it's placed behind an aperture of f/1.9. Its 50 Mega-Pixels ultra-wide camera also functions as a macro camera. An 8 Mega-Pixel telephoto module having 3x optical magnification and OIS is included in the Pro and Pro+ variants. Finally, on the front, there's a 50MP camera with a broad 100° FOV (Field of View). Honor 70 series are equipped with Vlog mode that makes advantage of AI and the cameras' wide field of view to keep users and their subjects within frame. The smartphone can capture video with the its front and back cameras at the same time, with AI beautifying and image stabilization.
Battery Specs
Honor has updated its charging technology, and the Pros now have a 100W output. This allows the 4,500mAh battery to reach 60 percent charge in 15 minutes and 100 percent charge in 30 minutes.
Honor 70 Pro+
Chipset
MediaTek Dimensity 9000
Networks Available
2G, 3G, 4G, 5G
Storage Capacity
256 GB
RAM
8GB, 12 GB
Selfie Camera
50 MP
Primary Camera
54 MP, 50 MP, 8MP
Battery
4500 mAh
Color Options
Gold, Green, Black
Specs of 70 Pro
The display, hardware, battery, and camera features of Honor 70 Pro are similar to Pro+. However, price and chipset are not same.
Performance Specifications
The 70 Pro has been powered by mid-range 5 Nano-meters chip with new Mali-G610 MC6 GPU and Dimensity 8000. Amazingly, there is a 512GB version of this model. However, the base model is 256GB.
Honor 70 Pro
Chipset
MediaTek Dimensity 8000
Networks Available
2G, 3G, 4G, 5G
Storage Capacity
512GB, 256 GB
RAM
8GB, 12 GB
Selfie Camera
50 MP
Primary Camera
54 MP, 50 MP, 8MP
Battery
4500 mAh
Color Options
Gold, Green, Black, Silver