The EV market is heating up in Pakistan and Javed Afridi is putting in his two cents with Wuling Mini EV. Expected to make an appearance in Pakistan, Javed Afridi took to Twitter to share the possibility of a new EV that will not cost the Pakistani consumers a fortune.
WULING MINI EV FOR PAKISTAN MARKET BELOW 1 MILLION PKR 🔜. pic.twitter.com/nrPC8xnZVs

— Javed Afridi (@JAfridi10) March 31, 2021
EV stands for electric vehicle, a type of vehicle that does not require petrol, CNG or diesel to drive around. You will charge it at your home and drive it around town. While no longer a novelty, a full-fledged EV has yet to make an appearance in the Pakistani market.
With the initiatives Afridi is taking to promote new vehicles in Pakistan, we can fully expect the Wuling Mini EV making its way into the Pakistani market.
What is the Wuling Mini EV?
The Wuling Mini EV is an all-electric city mini car that is produced by SAIC-GM-Wuling company in China. The production began last year and now the vehicle being delivered to the consumers in China. Coming directly from Wuling Motors, this mini car is perfect for climate conscious people who want to do their part in saving the environment for the children of future.
This smart little car is going to be the cheapest electric vehicle in Pakistan, if it makes its way to the Pakistani market.
Specifications and Details
The Wuling Mini EV is currently only available in China as a result of a joint venture between General Motors and SAIC Motors. This is a small vehicle, light in weight and can be driven around town with great ease. At the moment, the Chinese consumers are enjoying two variants of the electric vehicle.
The base variant of the Wuling Mini EV comes with a 9.2 kWh battery pack that delivers a range of 120 Km with a full charge. The second and much better variant comes with 13.8 kWh battery pack that can offer you a massive range of 170 Km with a full charge.
Both battery packs will come with the same powertrain that features a 13 kW single electric motor. This electric motor can deliver 85 Nm of torque and 17.4 horsepower. This might not seem like much, but it is pretty good statistics for an all-electric vehicle.
Highlighting Features of the Wuling Mini EV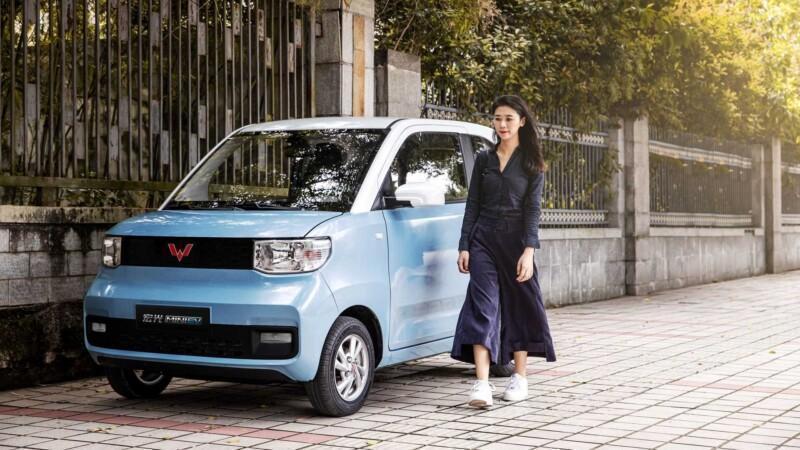 The highlighting features of the mini electric vehicle consists of the following:
Anti Lock Braking System
Tire Pressure Monitoring System
Rear Parking Sensors
Stereo System
Air Conditioner
741 liter Cargo Space
There are no air bags in the vehicle, but many other vehicles don't as well. Would that be a deal breaker for you? Javed Afridi is teasing to launch the Wuling Mini EV with a price that is under Rs. 1 Million.