Jazz has launched JazzFi, a one-of-a-kind WiFi calling service. Introducing a revolutionary service that enables users to make direct calls to any network or landline solely through WiFi. This groundbreaking feature marks a significant milestone as it becomes the first of its kind to be introduced in Pakistan.
JazzFi empowers all Jazz users to relish top-notch voice and video calls, guaranteeing a flawless communication experience. Embodying the future of voice and video communication, this cutting-edge service introduces Voice and Video over WiFi (VoWiFi) capabilities. By harnessing this innovative technology, users can expect improved call quality that surpasses traditional methods.
Additionally, this service enables simultaneous voice and data usage, accompanied by an array of advanced features, elevating the convenience and overall communication experience to new heights. Undoubtedly, the introduction of JazzFi marks a significant milestone in Jazz's dedication to digital transformation and empowering the community.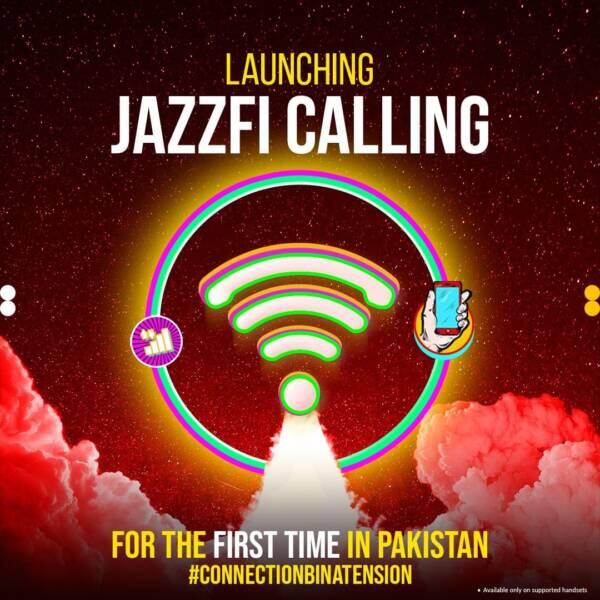 Users can now embrace the multitude of advantages offered by this advanced service, including crystal-clear voice calls in high definition. It proves to be an ideal solution for individuals facing limited coverage from traditional cellular networks. Jazz's groundbreaking Wi-Fi-enabled calling service encompasses numerous benefits.
Among them, a key advantage of JazzFi is its capability to facilitate communication even in areas with limited traditional cellular network coverage. This feature holds particular importance, considering the growing reliance on mobile devices and the constant need for connectivity. Users residing in regions with weak network signals can now reap the benefits of this service.
Let's dive into some key points worth highlighting. First and foremost, a common question that arises is whether this service will be available by default for all handsets. As per the telecom operator, the VoWiFi/WiFi Calling feature will be accessible in the settings of your existing VoLTE-enabled handset, which can be effortlessly activated through a simple toggle switch. Notably, WiFi Calling testing has already been successfully conducted for Samsung, OPPO, VIVO, and Digit phones.
Read More: Jazz YouTube Packages 2023 –Daily, Weekly & Monthly Packages
This service will be accessible to both prepaid and postpaid customers, provided their mobile handsets meet the required technical specifications and have a valid active Wi-Fi connection. And here's the best part – there are no additional charges associated with this service. Jazz will not impose any extra fees for making calls via VoWiFi. Customers who have subscribed to a particular bundle will utilize their available resources, while customers without a bundle will be charged at the regular base rate per minute of usage.
To enjoy this service, all you need is the following:
A VoLTE-capable handset with the Vo-WiFi feature enabled in the phone settings.
A 4G/LTE SIM.
Sufficient balance (airtime load) or an active voice and SMS bundle subscription.
JazzFi is set to revolutionize interpersonal communication, making it easier and more accessible for everyone. The company assures uninterrupted voice and video calls, enabling people to stay connected and enjoy seamless communication with JazzFi.