As promised by Javed Afridi, the MG Marvel R is finally on display in Lahore. This is an all electric car that has stunned the car lovers in Pakistan with its beautiful design and incredible specifications. This is a tradition with MG, before it launches any vehicle in Pakistan, they first display it.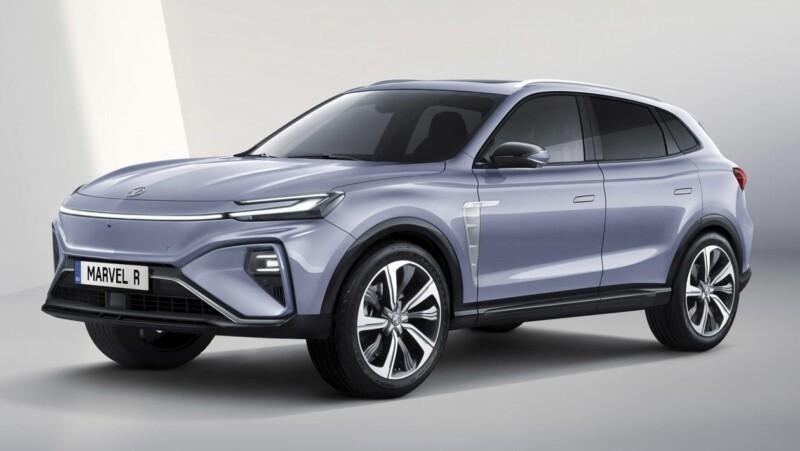 The MG Marvel R is an all-electric crossover SUV that is currently on display at MG Lahore dealership. However, it isn't really confirmed when and if it will be released in Pakistan. Nevertheless, the SUV is a marvel of modern engineering and if it does make its way to Pakistan, it is going to be fantastic.
Here is what we know about the vehicle, including its specifications and more.
All We Know About MG Marvel R
The crossover SUV will come with two different drivetrain, i.e. Rear Wheel drive and All Wheel Drive. The vehicle will have three variants that are Performance (highest trim level), Luxury and Comfort. All three of them are going to be luxurious and will be filled with latest technological features and luxury features that you have come to expect from MG vehicles.
Performance Specifications
The vehicle will come with 70kWh battery for all variants, whereas the torque and horsepower of the vehicle will change as per the variant. Here is a breakdown of the powertrain of each variant.
The Comfort variant will deliver 177 horsepower and 410 Nm of Torque.
The Luxury variant will deliver 177 Horsepower and 410 Nm of Torque.
The Performance variant will deliver the highest performance with 285 horsepower and 665 Nm of Torque.
All variants will have 2 gear automatic transmission. The battery of the crossover SUV can be charged from 5% to 80% in just 43 minutes. The vehicle will also feature a 11kW onboard 3-phase charger. MG claims that the vehicle can go 402 kilometers per full charge.
Highlighting Features
The MG Marvel R is packed full of latest safety features, advanced technologies and incredible luxury amenities. Here are all the features that you need to keep an eye on.
Automatic Side View Mirrors
Leather Heated and Ventilated Seats
Drive Seat 6-Way Adjust
Passenger Seat 4-Way Adjust
3-inch Virtual Cluster
4-inch Infotainment Touchscreen
MG iSmart Connectivity System
Voice Control System
Panoramic Sunroof
Wireless Phone Charger
MG Pilot
Automatic Emergency Braking (AED)
Adaptive Cruise Control
Traffic Jam Assistance
Lane Keep Assistance
Front Collision Warning
Blind Spot Monitoring
360 Degree Camera
7 Airbags
Front and Rear Parking Sensors
Inductive Electric Tailgate
These are just some of the features that are made public. It is rumored that MG will reveal a lot more features and specifications once the crossover SUV is near its launch. Considering that it is an all electric vehicle, the chances of it comes to Pakistan are very bright considering the current Auto Policy 2021 – 2026, which favors electric vehicles.
It is yet to be confirmed if we will get the vehicle and MG has made no announcements regarding its release. Only time will tell if we will get MG Marvel R.