The world largest and highly competitive hackathon "NASA International Space Apps Challenge" was held in 3 cities this year which was organized by Team Rah e Qamar at The Millennium University & College in 3 major cities of Pakistan.
The event was held for the very 1st time in Karachi and Lahore under the main lead of Iftekhar Yezdani founder of Rah e Qamar while the stellar local lead of Karachi of NASA Space App was in the hands of Hassaan Bin Zaki the head of Rah e Qamar for Karachi.
The theme of 2018 Space Apps Challenge
The NASA International Space Apps Challenge is a worldwide competition that brings personalities from diverse backgrounds and fields to produce open source solutions through the code, conception, visualization, design, hardware or an app in 48 hours.
The teams of technologists, scientists, engineers, designers, coders, programmers, entrepreneurs, problem solvers, idealists, and students work with NASA in designing innovative solutions and to develop answers to some of the most pressing global issues and problems.
This year the theme was "Earth" and "Space" in which there were about 20 challenges in 6 different categories that include:
Can You Build A…,
Help Others Discover the Earth,
Volcanoes Icebergs and Asteroids(oh my),
What The World Need Now Is…,
An Icy Glare,
A Universe of Beauty and Wonder.
These were given from the domain of Earth and Space. These problems are designed with real global issues that need to have an innovative solution. To solve these issues, participants were given access to a wide range of data sets, services, and tools from NASA and associated agencies for 48 hours and they have to design a solution within that time frame.
More details can be found here: https://2018.spaceappschallenge.org/challenges/
Location: Karachi
Winner – Team ThuderX
The Winner of this competition from local Karachi Team ThuderX. The team consisted of:
Jibran Yousuf
Syed Muhammad Hamza
Uroosh Mashall
Setara Arain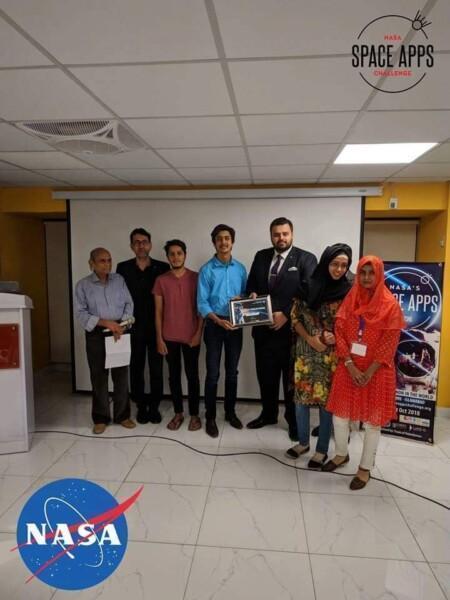 They developed NASA News Alert Application, having two separate modules. The first module was to provide aid to the space science students and faculty to provide accurate news update of new events, new space missions and predicting the forthcoming the natural occurrences by using Machine Learning. The Second Module focused on fusing AI Chat Bot in the application, that enables the user to interact directly with the NASA's resources, and authentic data & reports.
Detailed Information
https://2018.spaceappschallenge.org/challenges/help-others-discover-earth/artify-earth/teams/thuderx/project
Runners-up – Team Shark_Bot
The Runner Up of this competition from local Karachi were Team Shark_Bot. The Team included
Hadiqa Ahmed
Kanwal Shameem
Dua Khan
Eruj S. Qadri
Kiran Noor
Ghulam Nabi Ahmed Hassan
Mirza Zulqarnain
They designed an underwater vehicle which goes inside the ocean and sends the images and videos and processes the deep sea images into refined images which can be used for deep sea submarine tracking, underwater drone and deep sea exploration of different species of plants, fishes and other organisms.
Detailed Information
https://2018.spaceappschallenge.org/challenges/can-you-build/bring-your-own-solution/teams/shark_bot/project
Location: Islamabad
Winner – Team Space Board
Team Space Board was the Winner from local Islamabad who integrated NASA Earth science data and citizen data to learn more about the connections between human, animal and environmental health.
The team consisted of :
Danyal Khan
Zara Shafique
Muhammad Bilal Afzal

Detailed Information
https://2018.spaceappschallenge.org/challenges/what-world-needs-now/health-makes-wealth/teams/space-board/project
Runners-up – Team DOD
Team DOD was the runner-up from local Islamabad consisting of:
Salman Ali Thepdawala
Mostafa Ali
Waleed Khan
Zarar Younis
Talha Farooq
They built a crowd sourcing tool for citizens to contribute to early detection, verification, tracking, visualization and notification of wildfires.
Detailed Information
https://2018.spaceappschallenge.org/challenges/volcanoes-icebergs-and-asteroids-oh-my/real-time-fire-app/teams/team-dod/project
Global Nominees
All the 4 teams are nominated from Pakistan as a global nominee and are now competing for the global awards where the brightest ideas across the Space Apps universe receive global recognition.
The categories for awards are:
Best use of data
Best use of hardware
Best mission concept
Galactic impact
Most inspirational
Best use of science.
Global award winners are featured on the Space Apps website and receive an invitation to visit NASA's Kennedy Space Center with the Space Apps Global Organizing Team.
Message from the Curator
The Curator of NASA Space Apps Challenge said to make it more wonderful and competitive next year with the increasing number of participants and activities.
Also Read: Students of NUST Win NASA Space Apps Challenge Islamabad 2017 and get Nominated for Global Award