A good news for automobile enthusiasts is here as HS model of their favorite British automaker MG has been introduced in Pakistan. Javed Afridi, CEO Haier and Ruba Company introduced the new models MG ZS EV and MG HS.
Introducing Two Models for Pakistan for this year 2020.
1️⃣ MG ZS EV
2️⃣ MG HS

For 2021 You Can Select From MG GLOBAL PRODUCT LINE UP That What Model We Can Launch? pic.twitter.com/rw2S2YprLL

— Javed Afridi (@JAfridi10) September 15, 2020
Earlier, Morris Garage was a British owned company which was later on taken over by Chinese company. Rumors are that Chinese president will visit Pakistan to inaugurate the plant by the end of this year. However, there is no confirmation by authorities yet.
The Morris Garage ZS is a subcompact crossover with beautifully designed interior and exterior. It is the second SUV which is introduced by the company. First one was MG GS, which was introduced in April 2015.
Four months back, Afridi shared the images of the vehicles, asking public to give their views on the interior and exterior SUV. SUV was spotted in northern areas of Pakistan which was being used for road-trials.
However, in a recent tweet, Afridi officially announced the introduction of vehicles in the country. He also revealed that MG ZS EV is the first electric vehicle of the company in the Pakistan.
Here you go with a First Fully Electric Vehicle from MG. Road Trials Started in Pakistan. https://t.co/GERVjROGog pic.twitter.com/UG7wLBJMHk

— Javed Afridi (@JAfridi10) May 26, 2020
Javed Afridi asked investors to invest money in these vehicles to make Pakistan prosper in vehicle manufacturing field.
Earlier, Javed Afridi, the Peshawar Zalmi chairman also tweeted about the comparison between the two SUVs.
MG vs Other Brands in Pakistan.

Safety (Airbags)⁉️ pic.twitter.com/gbCuRzy1F8

— Javed Afridi (@JAfridi10) September 14, 2020
Earlier, Javed had also announced the launch of MG E-motion in Pakistan. Also, he announced that bookings for vehicle are open.
Specifications of MG HS:
Speed of 210 km/h
231 PS and maximum torque od 360NM
01L high-efficiency turbo petrol engine
All Wheel Drive (AWD) System
Premium Audio System
Air Quality Management System
A 10.1 inh touchscreen with

GPS Navigation
Apple Car Play
Android Auto

Sports Driving Style
Six-speed dual-clutch transmission gearbox
The key feature of the car is that it comes up with utmost safety options comprising of six airbags. Whereas, on the other hand, other major car manufacturers in Pakistan come up with two front airbags only for the safety.
Here are some of the pictures of interior and exterior of vehicle.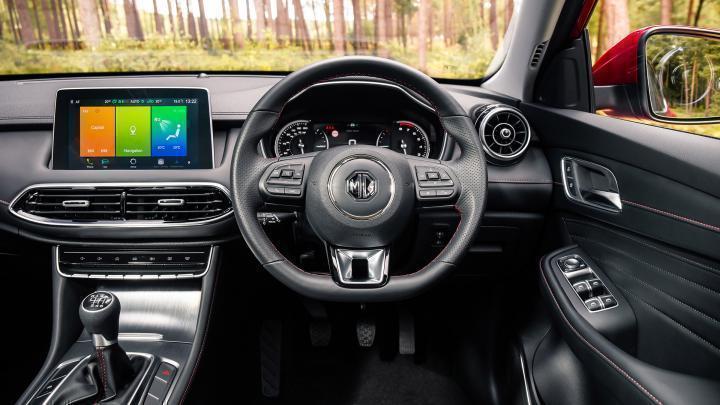 Price of MG HS & MG EV
The ZS EV and EZS are already being sold by the company on India, United Kingdom, New Zealand, Thailand and Australia. The price of MG ZS EV Exclusive 2020 is Rs – 4,691,160. Whereas, price of MG ZS EV Excite 2020 is Rs – 4,193,160.
On the other hand, price of HS model is around Rs – 4500000.