Oppo's New Smartphone Oppo A7 will Arrive on 13 November…!!!
There are lot of rumors about the new smartphone of Oppo Company and the smartphone is Oppo A7. Although, it's official launch has not been done but it has been leaked today. All the key specs of Oppo A7 are disclosed and here we are to tell you about all those features. Oppo A7 will run on Android 8.1 Oreo out of the box and has Snapdragon 450 chipset. A large display size of 6.2-inch HD+ (720 x 1520) IPS panel is included in this smartphone. A waterdrop notch, and 4GB of RAM and 64GB of memory is available in Oppo A7 mobile phone. Dual camera setup is placed as 13MP primary sensor and 2MP secondary, on the other hand selfie camera is 16MP. The latest smartphone Oppo A7 has the dimensions (155.9×75.4×8.1mm) and 158g weight. A powerful 4,230 mAh battery capacity is available in this handset. The most interesting thing is that it would come in Gold Color for the customers. This smartphone would come in China on 13th November 2018. All the key specifications are discussed below with the price details.
New Oppo A7 Leaked
Smartphones are releasing day by day with many new and excellent features in the markets. A new smartphone that is not yet officially launched but leaked before its launch is Oppo A7. A large display and long battery capacity is included in this smartphone. It would come on 13th November 2018 and then it would also come in other markets.
Key Features of Oppo A7:
The key features of this new smartphone are as follows:
Android 8.1 Oreo
Snapdragon 450 chipset
Dimensions are 155.9×75.4×8.1mm
Weight is 158g
6.2-inch HD+ (720 x 1520) IPS panel
Waterdrop notch
4GB of RAM
64GB of memory
Dual camera setup (13MP primary sensor and 2MP secondary sensor)
16MP selfie camera
4,230 mAh battery life
Available color would be golden
Price in Chinese market would be CNY 1,599 ($230)
Arriving date is 13th November 2018
Price and Launch
The Oppo A7 has been leaked now and all the key specs are discussed above. So, the starting price of this smartphone is CNY 1,599 ($230) in Chinese market because it would arrive in China first. After its official launch, it would be available in other countries including Pakistan. So, wait some more as only half month has been left in its official launch (13th November 2018).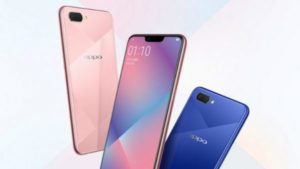 Related Article|New Samsung Galaxy Smartphones| Samsung Galaxy A6s & Galaxy A9s