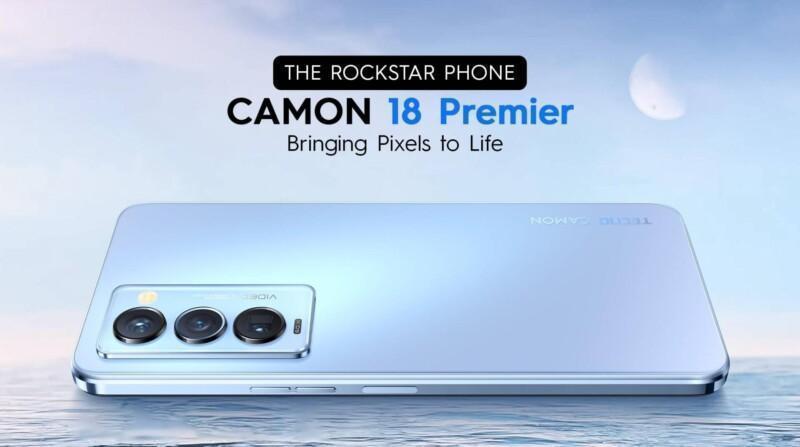 Camon 18 Premier, the new addition in the CAMON 18 series speak of what innovation looks like when it's done in the right way.
This phone is so much better than many smartphones available in the market and what makes it different than the rest, is its high- resolution camera quality.
If you are a photographer or an influencer who has to update their followers on daily updates, this phone is the solution to everything. It's so easy to use, comes with gimbal camera for stable video making, and of course, the infamous super moon feature brings far away objects closer to you.
So, let's get to know it better.
CAMON 18 Premier's Camera Features
Camon 18 Premier, Tecno's first-ever Gimbal Camera phone, has been introduced. And, its literally replacing the regular DSLRs.
People are loving this smartphone as it brings the glory of a good camera. That now your CAMON 18 Premier will offer you.
This phone is one of the exclusive phones in the market, having a gimbal camera and 60X Super Zoom, as well as a 64MP main camera and a 32MP front camera.
With the Super 60xZoom feature, one can focus on objects that are impossible to capture with clarity with a regular camera.
Moreover, it comes with a 12MP gimbal stabilized camera. And a 8MP camera with 5x periscope, which makes your video making easier and convenient.
Now, you don't have to buy another gadget just to stabilize your camera, your CAMON 18 Premier will do it for you.
It's actually a pretty decent phone for influencer, visual content creators and YouTubers.
Imagine the time, when you got to capture a stunning landscapes. And your phone does not do justice to the beauty or the place. You won't have to worry about it anymore.
Comparing it to the other phones, we have a 48MP main camera, supported by the Camon 18P and Camon 18T. The 16MP selfie camera on the Camon 18P gives you an option of capturing high-quality pictures. Whereas, the 48MP selfie camera on the Camon 18T gets you high-quality selfies for your Instagram.
Other Specs of Premier
The Camon 18 Premier has a 6.7-inch screen with a 120Hz refresh rate and an AMOLED display. The screen has a resolution of 1080p Full HD+ and the MediaTek Helio G96 processor. Makes the operability of this phone pretty smooth.
The amazing battery power 4750mAh works just fine whenever you like to talk for long hours. And when it goes down, you have the 33W charger to bring it back to life.
Get This Amazing Phone on Two Cool Colors
Bold colors are a thing in the past and now its the calming and reflective color schemes that are ruling everywhere. Then why TECNO CAMON 18 Premier wouldn't have them?
Ocean Moonlight & Summer Breeze are the two colors that this smartphone offers. Imagine you have one of these cool phones in your hand. Only the thought of it gives your personality an edge. Its stylish and flat screen design don't escape anyone's eyes. It looks that good and performs so mainstream.
Conclusion
What more one wants other the high-performance smartphone and the promising design and CAMON 18 Premier ticks all boxes here.
So, if you are looking for one phone that makes you a rockstar and is the referral image of bringing pixels to life, this is it! Go, get it now.
Infinix Note 30 VIP Launched with 50W Wireless Charging