Fans are Raising Their Voices for the Support of Pakistan Cricket Team & Sarfaraz Ahmad!!!
As we all know the Cricket World Cup 2019 is started in England in which Pakistani team don't perform well against the India. So many people are criticizing the whole Pakistani team and specially its captain Sarfaraz Ahmad. The whole team and captain are criticized on social media by many people. In this mega event Pakistani Cricket Team won only one match against England and it lose two matches with India and Australia. After the defeat against India people point this issue at large level and mostly pointed out Sarfaraz Ahmad and people also said about Pakistani Captain "send him to home". But now if we look back then there are many time when Pakistani Captain make proud for our country by winning many matches. Now a large no. of fans are with Pakistani team and especially with its captain. The more details are described below.
Critic on Pakistan Cricket Team & Its Captain:
The era of Cricket World Cup 2019 has been continued nowadays, and the hottest topic of this day is Pakistani team and its captain. Many people are criticizing the whole team after the defeat of Pakistan and India match. Pakistani team don't played well and lose this match and now people are saying the bad words about our team.
Two days ago a video has been out in which a fan requested to captain for a picture with him and he accepted his request. But that fan does not took picture and starting to make a video clip in which he is calling the amusing words about captain. Sarfaraz was with his son and he don't say anything in his reply, but that person share this video on social media.
After watching that video the Pakistani fans and many other also criticize the boy who shot this video and they also said we all are with our team and our captain.
Coke Studio Released a New Cricket Anthem Hum Aik Hain for Pakistani Team on mega event of Cricket World Cup 2019.
Sarfaraz's Fans Tweets:
If some people are against our captain them on the other hand there is also a large no of people who are with him and their tweets are as follows:
Here are the winning moments from last few years that are tweeted by a fan.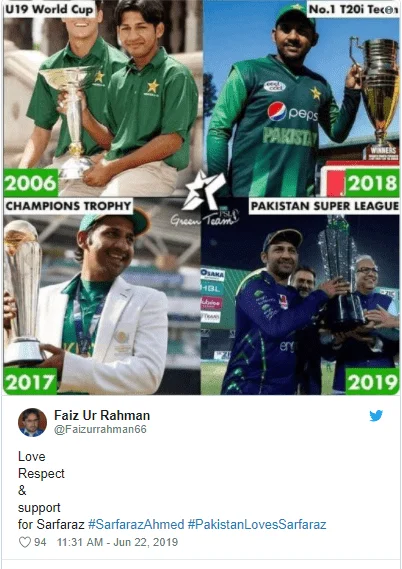 One more tweet in which this boy has been criticized on his action that he made.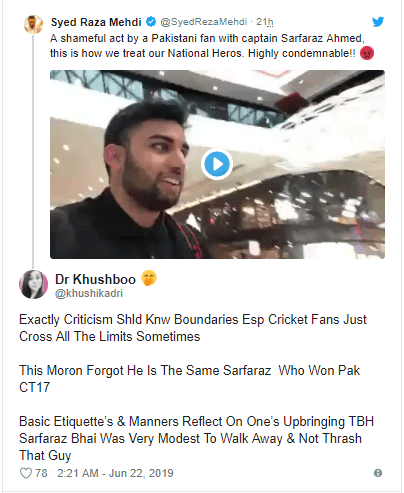 This is one more Pakistani who loves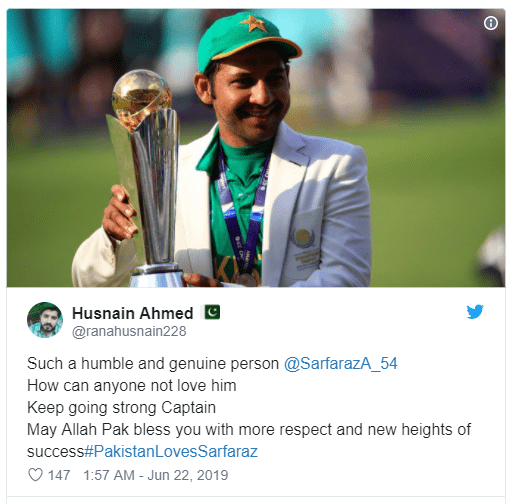 Indian Fans are Love Our Captain:
Not only the Pakistanis but also Indian people love our captain and also supports him. Their tweets are as:
One more Indian tweet this: