Pakistan's first ventilators are being developed in Haripur. A great achievement and a significant step towards making Pakistan capable of taking care of its citizens. Prime Minister Imran Khan inaugurated the new medical equipment factory, which is Pakistan's first try to become self-reliant in life saving medical equipment.
وزیر اعظم عمران خان نے آج نیشنل ریڈیو اینڈ ٹیلی کمیونیکیشن کارپوریشن (این آر ٹی سی) ہری پور کا دورہ کیا جہاں انہوں نے پاکستانی تاریخ کی پہلی مقامی وینٹیلیٹرز کی پیداواری سہولت کا افتتاح کیا۔#MadeInPakistan pic.twitter.com/7Q5t9dm4cq

— Prime Minister's Office, Pakistan (@PakPMO) July 6, 2020
On Monday, the Prime Mister Imran Khan inaugurated the facility at National Radio and Telecommunication Corporation (NRTC) in Haripur. This is definitely a great achievement by the country as Pakistan has been struggling to find the right resources to take care of its citizens.
Inauguration of the Ventilator Factory
Prime Minister Imran Khan, along with his team, inaugurated the ventilator facility in Haripur at the NRTC, National Radio and Telecommunications Corporation. During the ceremony, Prime Minster Imran Khan said, "It is a landmark achievement for the country and I congratulate the entire team."[/wpdiscuz-feedback]
He also said that the focus of the government will be on revitalizing and revamping the health sector of the county. He said, "Our approach in response to the pandemic and adopting smart lockdown while keeping the economy afloat has been widely acknowledged and now our focus will be on comprehensive health reforms."
Welcome @ImranKhanPTI to #NRTC ♥️.@fawadchaudhry#Ventilator#Haripur pic.twitter.com/VhQPWKXJj7

— Mubashir Munawar ? (@ImMubashir_Awan) July 6, 2020
PM Imran Khan congratulated and lauded National Radio and Telecommunication Center as well as the Ministry of Science and Technology for taking the initiative and producing ventilators at such a pace. He said Pakistan has incredible talent, which is the reason why there is no one standing in the way of the country becoming self-reliant in new technologies. He also mentioned that the government will provide full support to all initiatives taken by the youth of the country.
During his visit, he was joined by Minister for Science and Technology Fawad Chaudhry, Minister for Energy Omar Ayub, PM's Focal Person for Covid-19 Dr Faisal Sultan and NDMA chairman Lt Gen Mohammad Afzal.
Ventilators in Pakistan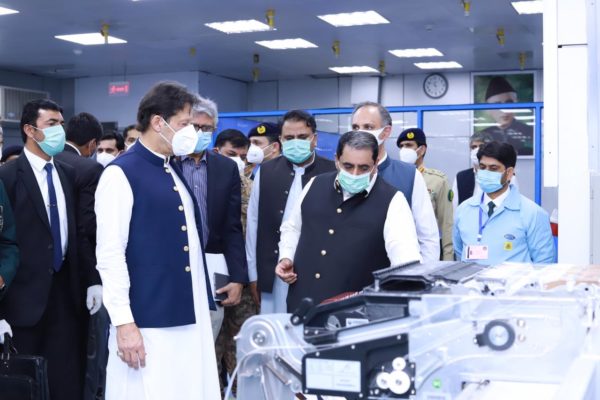 NRTC or National Radio and Telecommunication Center is the first organization in the country that is developing and manufacturing ventilators. These are portable ventilators that are called SafeVent SP100. The ventilator SafeVent SP 100is fully CE and FDA approved. More than that, it is also reliable and economical. So far, we have 15 units produced by National Radio and Telecommunication Center. However, their capacity to produce these ventilators is more than 250 units per month. They can make as many as 300 units per month.
With such indigenous steps taken by the people and organizations of Pakistan, there is hope that we can have a better future and control over this disease very soon. Pakistan is currently on 12th rank in most corona virus cases in the world. At the moment, there are 234,509 confirmed cases in Pakistan with 94,713 active cases. So far, 4,839 deaths recorded by this pandemic in the country.
The government is trying their best to bring reforms in the country while also educating the nation on proper use of masks, sanitizers and social distancing. The production of Pakistan's first ventilators is a hopeful step towards a better future where Pakistan will not have to rely on another country.