You Don't Need To Worry Now As New PTCL 6mb Connection is Here…!
It is more essential for all to stay connect with their loved ones on remote areas. There are many telecommunication companies which are providing the best offers and packages for its customers. PTCL is the backbone of Pakistan Internet Connection across the country and serving its services to almost whole country. Now PTCL bring a new PTCL 6mb Connection for its customers on low rates. This PTCL 6mb Connection is for all the PTCL customers, so that they don't face any problem to connect with their friends and family members. The new PTCL 6mb Connection is a monthly based connection only in Rs.2100/-. You can enjoy the fast downloading, lengthy calls, free smart TV app and much more by PTCL 6mb Connection. The complete details about new internet connection of 6mbs by PTCL Company are here for the PTCL customers.
All about PTCL 6mb Connection
PTCL introduced a new PTCL 6mb Connection for its users. You can avail this mega service on low rates to any nearest PTCL office in your city. PTCL launched 6mbps internet connection in Rs.2100/- on monthly basis for its customers. We can say that the new PTCL 6mb Connection is "Behtreen Internet Ka Mix as PTCL 6).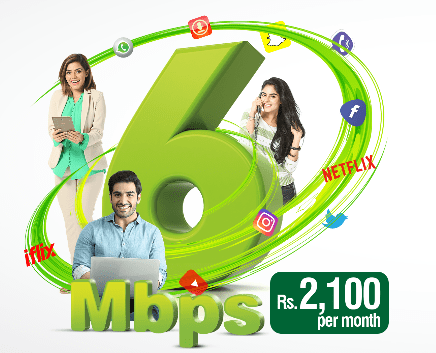 6mbps Connection Details:
Volume: 6mbps
Price: Rs.2100/- only
Validity: One Month (30 days)
Best Mixture of Browsing & Other Services
Through the new PTCL 6mb Connection you can enjoy browsing on all social medias. You can use high speed internet and stay connect via Facebook, Twitter, Netflix, Instagram, We chat and much more. The main services of this mega internet connection of 6mbps are as follows:
Unlimited PTCL Calls
Unlimited Downloads
Free Digital Quality Smart TV Services
Unlimited Access for One Year
Free Smart TV App for Smartphones
Free Wi-Fi Router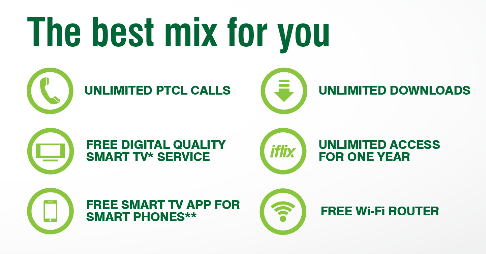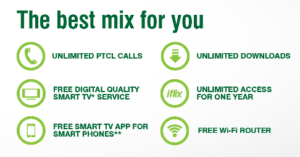 Now you need not to worry about the best internet connection on low rates. Because PTCL bring a new PTCL 6mb Internet Connection for its customers. PTCL provides rapid download and upload for demanding Internet applications across the Pakistan. Whether you use broadband for video, online gaming or data processing, High Speed Broadband provides a high data with the best level of performance. So don't forget to establish a secure connection with new PTCL 6mb Connection for staying connect with your loved ones.
Related Article|Zong Super Weekly Max Bundle With 10GB Volume| Stay Connected