Its All About PTCL Online Bill Process Via Easy Steps…
It is the era of IT and more tasks are performed online rather than physically visiting the customer care service of the respective organization. Therefore, almost all big organizations are developing the online service portal for their precious customers. So like other organizations PTCL (Pakistan Telecommunication Company Limited) also started various online services for its users as broadband Internet, Charji wireless Internet, PTCL Smart TV, Touch App. One of the most famous and widely used service is PTCL Online Bill. Through this service the users of PTCL can check online bill status from its official website .
Details of Checking PTCL Online Bill
If you are a PTCL user and want to know about the process of checking PTCL Online Bill then you are at the right place. Here is everything about checking, printing and downloading your PTCL bill from your home or office place. You can do this by only providing few details and performing simple steps that are described below.
Go to the official website of PTCL by clicking this official website or simply copy this link in search bar.
After clicking on this link the official website of PTCL would be opened.
Now click on this link for further processing. You will see this page.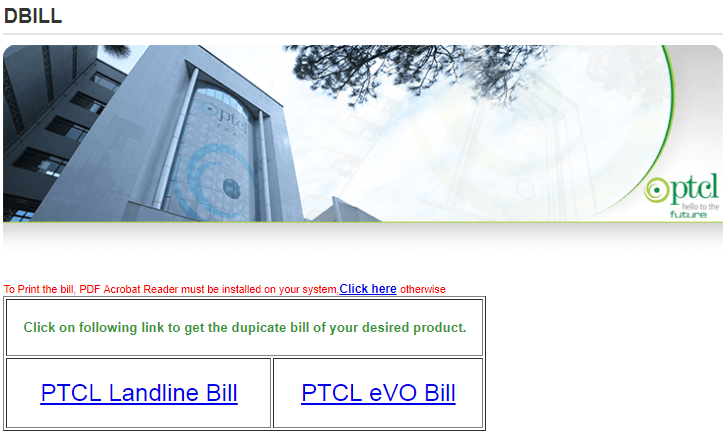 Here are two options as PTCL Landline Bill & PTCL Evo Bill.
If you are a PTCL Landline user then click on PTCL Landline Bill link. After clicking on Landline Bill you will see this service portal.
Enter your phone number here and your account ID. Account ID is a unique code which PTCL assigns at the time when you apply for a PTCL connection.
Now press the search button and you will see the PTCL bill on your screen.
If you use PTCL Evo then click on PTCL Evo Bill link. After clicking on Evo Bill link you will see this page.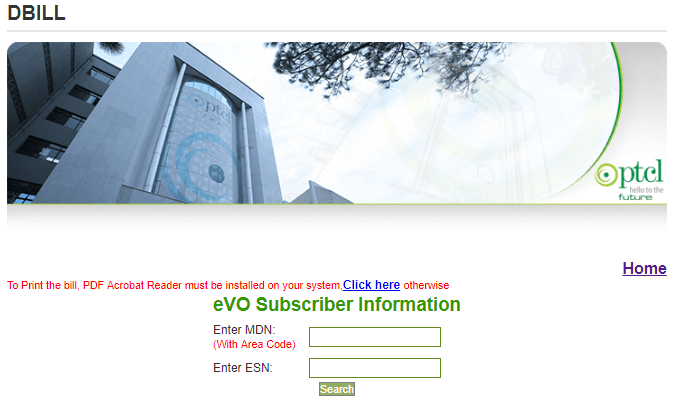 Here you should enter the Mobile Directory Number and Electronic Serial Number.
At the last step click on search button and you will see your bill on screen.
You can download your bill in PDF form or you may take its print as well.
Through these simple steps you can check your PTCL Online Bill for Landline & Evo connections.
Where you can pay your Bill
If you are a PTCL either landline or evo user and want to pay PTCL Online Bill then you can pay your bill in these places as:
Banks (Allied Bank, Bank Alfalah, MCB Bank, Meezan Bank, Bank of Punjab, Bank AL-Habib etc.)
Other Options (Easy Paisa shops, Jazz Cash, Mobile Paisa, Epay Channels and UBL Omni)
Through Pakistan Post Office
Direct Debit Card
Through Bank ATMs
Contact Details
Islamabad:
Address: PTCL F-8 Exchange Nazim-Ud-Din Road F-8/1, Islamabad
Phone #: 111 20 20 20
Email address: care@ptcl.net.pk
Karachi:
Ground Floor, EVP Office, Hatim Alvi Road, Clifton, Karachi
Phone #: 111 20 20 20
Email address: care@ptcl.net.pk
Lahore:
26A Civic Centre Barkat Market, Garden Town, Lahore
Phone #: 111 20 20 20
Email address: care@ptcl.net.pk
Related Article|How to Check, Print & Download HESCO Online Bill – Details