It is anticipated that the next major Samsung event will occur in August. Jon Prosser claims that in August the Korean company would introduce its newest foldables, the Galaxy Z Fold4 and Galaxy Z Flip4.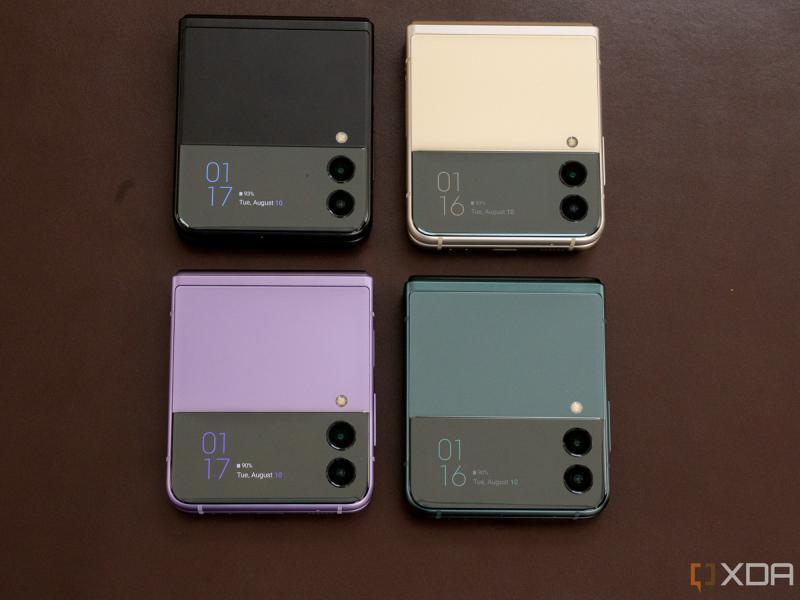 Samsung Galaxy Z Flip 4
Display and Camera Features
According to reports, the Flip4 has a 6.7″ FullHD+ 120Hz AMOLED display with a punch hole in the center for the 10-megapixel selfie camera. The 12-megapixel primary and 12-megapixel ultra wide cameras will be added on the outer AMOLED screen, that is larger than the Flip3's (2.1″ vs. 1.9″).
Battery and Color Options
The Galaxy Z Flip4 is anticipated to have a 3,700 mAh battery, 10W wireless charging and 25W wired charging setup. The Bespoke edition of Flip4 would be available in more colors. There will be four color options for the Galaxy Z Flip4: Graphite, Pink Gold, Blue and, Bora Purple.
Samsung Galaxy Z Fold4
The Galaxy Z Fold4 is said to include the Snapdragon 8+ Gen 1, up to 1TB storage, and 12GB RAM. Despite having a battery with the same capacity (4,400 mAh), it is claimed to be lightweight than its predecessor. The cover and foldable displays measure 6.2″ and 7.6″ diagonally, respectively.
Display
According to reports, the Z Fold 4 will only have one joint in the center, as opposed to the Galaxy Z Fold 3's dual hinges. This would make the Z Fold 4 more robust while enabling a lighter and thinner design.
The internal display of the Galaxy Z Fold 4 will have a screen proportion that is more square as compared to 5:4 for the Z Fold 3. The panel may end up being broader and shorter as a result.
Camera leaks
The rear cameras of Z Fold 4 are designed like that in Galaxy S22 Ultra instead of those installed in Z Fold 3.
Color Options
The Phantom Black, Beige and green are color options for the Galaxy Z Fold4.
Expected Release Date
It is rumored that Samsung would launch its new additions named Samsung Galaxy Z Fold4 and Galaxy Z Flip4 on 10th August 2022 but the company hasn't said anything about these devices just yet.
Progressive Improvements
Samsung needed to resolve two issues when it released its 1st foldables in 2019: the cost and the product's overall elegance. Samsung has addressed these challenges head-on with price reductions year after year and progressively better designs.
FAQs:
What is Samsung Z Series?
Samsung Electronics make a series of foldable smartphones that is referred to as the Galaxy Z series (or Samsung Galaxy Foldables in some regions).
2. What does the Z in the Samsung Galaxy Z stand for?
Galaxy Z stands for Zen (cool in French) or Zenith or Zero.
3. Why is it called Z Fold?
Samsung decided on the letter "Z" for this line since it conveys concept of a fold in an intuitive way. And has a lively, youthful vibe.