Sana Javed is a beautiful, delightful and versatile Pakistani actress who entertained people with her impressive acting skills. She is a Pakistani television and film actress. The talented Sana made her first appearance as a model and she also did many commercials. This epitome of beauty is known for her tremendous acting skills. Sana has remained successful for all the projects on her portfolio. Whether it be Pyaray Afzal or Ruswai, she is renowned for performing characters with all of her energy. She stands out in the industry due to her sophisticated personality. The lady is concerned about maintaining good reputation within the society. Many people praise the lady not only in Pakistan but across the globe as well. Indeed, her elegance is unmatchable and she is a tremendous actress with fine acting skils. This article is going to highlight the Sana Javed biography, Sana Javed age, Sana Javed husband, Sana Javed family and more.
Sana Javed Biography
Sana Javed is a versatile actress who made her acting debut in a TV series 'Shehr-e-Zaat.' She garnered notability and stardom after her devotion and courage. He cherished herself as an actress after her amazing performances one after another. Her first ever major role was in mega-hit drama 'Pyaray Afzal,' which made her rise to the heights of success. She attained huge appraisal for performing fantastic role in 'Zara Yaad Kar.' Additionally, in 2017, she appeared in a film 'Mehrunisa V Lub U,' along with co-star Danish Taimoor; this movie also earned her huge appraisal. Sana can fluently speak three languages including English, Punjabi and Urdu. She was born in Jeddah, Saudi Arabia and she completed her education from Karachi. The beautiful and ever green diva, Sana is 5 feet and 7 inches in height. She is a blend of mesmerizing beauty, kindness and style; which makes her extraordinarily gorgeous.
Sana Javed Age
Sana was born on 25 March, 1993 in Jeddah, Saudi Arabia. Later on, her family moved to Karachi. She was raised in Karachi and currently she is 28years old. Her zodiac sign is Aries which encompass the people having ambition, honesty, creativity and optimism as their characteristics.
Sana Javed Education
Sana got her early education from Pakistan International School, Jeddah. For graduation she pursued the University of Karachi and got her graduation degree from there. Afterwards, her enthusiasm made her to enter into the showbiz world as an actress.
Sana Javed Family
Sana has her roots embedded in Hyderabad Deccan. She belongs to a decent family and has two sisters named as Tahmina and Hina and one brother named as Abdullah. Her siblings are also a part of the showbiz industry. Hina Javed has recently joined the industry. Sana has never been seen discussing her family publicly which shows she wants to keep her personal and professional life separate.
Sana Javed Husband
She got married to a renowned singer, Umair Jaswal in 2020. Their marriage was a surprising news for the fans. The couple was engaged for two years. However, they kept it as a secret and came into limelight when they announced their wedding. The wedding ceremony of the couple was simple yet decent holding some of the closest family members. They both made a perfect couple together.
Sana Javed Career
Sana is undoubtedly a brilliant and fine actress in the industry. The lady indulges into the character in depth that it seems like a natural one. Previous to acting, she was a model. She has worked in various commercials and for many brands. Also, she walked on ramp for well-known designers. Her incredible looks made her appear in bridal shoots. Additionally, she has been part of multiple music videos.
In 2021, she made her debut in a drama serial 'Mera Pehla Pyar,' with co-stars Shazia Naz and Faysal Qureshi. Later on, she appeared in 'Shehr-e-Zaat,' along with Mohib Mirza, Mahira Khan and Mikaal Zulfiqar. She got recognition after her character of Mahnoor in 'Zara Yaad Kar' starring Zahid Ahmed, Yumna Zaidi and Saba Faisal. She performs every character so intensely that it seems so real. 'Ruswai' was another one of its own type which featured Mikaal Zulfiqar. This drama came with unique character for Sana.
Whether it be, comic role, negative role or intense role, Sana has performed with full dedication and enthusiasm. 'Pyaray Afzal,' was a major hit of actress opposite Hamza Ali Abbasi and Ayeza Khan.
'Khaani,' was a blockbuster which was on screen of every other person. This drama truly brought recognition to Sana featuring Feroze Khan. 'Romeo Weds Heer,' was another hit where she presented highly refined skills.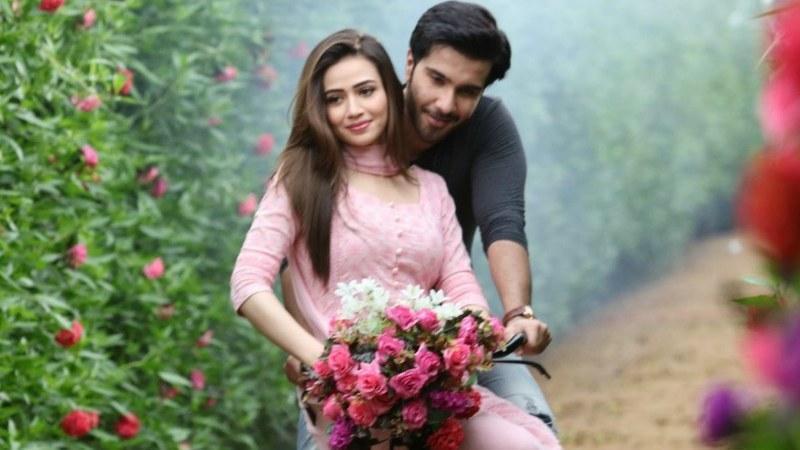 Her first appearance on cinema screen was in a movie named 'Mehrunisa v lub u' featuring Javed Sheikh, and Danish Taimoor. In 2018, she appeared in 'Dino ki dulhania' with co-star Feroze Khan.
Sana Javed Dramas
Meri Dulari
Koi Deepak Ho
Aitraz
Khaani
Romeo Weds Heer
Ruswai
Dar Khuda Sai
Mera Pehla Pyar
Pyaray Afzal
Shehr-e-Zaat
Ranjish Hi Sahi
Mana ka Gharana
Aitraz
Also Read: Iqrar ul Hassan | Biography, Age, Wife, Education & Career