Telenor has announced a brand-new offer called the EasyCard 1000. Designed to be the real budget-friendly offer by Telenor, this new offer is exclusively available through the Telenor mobile app and you need to have it installed in your mobile if you want to avail this great offer.
When you open your My Telenor App on your smartphone, you will get free MBs, free Telenor minutes, free other network minutes and even free SMSs. Plus, the price of the offer is very low. As being one of the biggest telecommunications services providers in Pakistan, this new offer is a welcome addition to their already announced plethora of offers.
Here is everything you need to know about the EasyCard 1000 and what you will get when you avail this offer.
Telenor EasyCard 1000 Offer
This is a wonderful new offer exclusively for My Telenor App users. This offer is perfect for people who are on a budget and what you get the maximum out of this offer. This is a monthly deal that will offer you enough free data, minutes and SMMs to last you the whole month.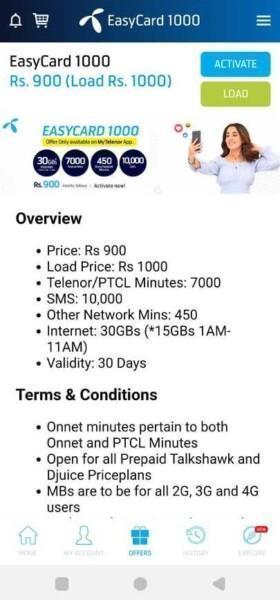 When you subscribe to the EasyCard 1000 offer, you will get the following:
30GB Data (15GBs exclusively for use during 1 AM and 11 AM)
7000 Telenor to Telenor and PTCL minutes
10,000 Free SMS
450 Free Other Network Minutes
The offer will remain valid for 30 Days
The price of the offer is 900 and you will get a load price of 1000 on subscription
The offer will remain valid for 30 days
What You need to Know About This Offer?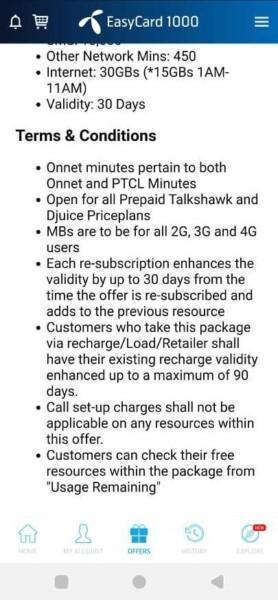 Here is everything you need to know about the EasyCard 1000 before you subscribe to it and start using it. Read these before deciding if this offer is for you or not.
The Onnet minutes available in this offer are available to both PTCL Minutes and Telenor minutes.
The offer can be availed by anyone who are users of Prepaid Talkshawk and Dijuice Priceplans.
The available data in EasyCard 1000 can be availed for all 2G, 3G and 4G users.
The offer will remain valid for 30 days.
Any data and offers not used in the 30 days will be added to the new subscription.
This offer is available for all over Pakistan. Anyone who wants to subscribe the EasyCard 1000 offer will have to download the My Telenor App to get subscribe to it.