The need for online shopping in Pakistan is gradually growing day by day. Multiple retailers are now turning to the internet, and websites to start selling their products online like mobiles, clothes, home appliances, and many more.
The behavior of online shopping consumers is changing now due to the growing use of the internet and smartphones. Even though existing internet users in Pakistan are approximately 36.5%, which is still less than developed countries.
In the last few months, State Bank expects a 2-time increase in online shopping, and the prediction is that it will expand further in coming years. In the past, it was considered that online shopping is a scam and taken as impractical.
However, the Covid pandemic is the leading reason that made the people believe in it because when they were locked down in their homes and had no other option but to try online shopping.
Moreover, e-commerce in Pakistan expanded rapidly during the Covid pandemic. The consumer base is increasing with access to the internet, which results in rising demand for the introduction of online sales and offers.
There are millions of potential customers in Pakistan who visit online stores every day. Furthermore, many potential players are establishing themselves as leading marketers, such as Daraz.pk.
Some new ones are attempting to be a leading marketplace in the online retail market, such as CyberMart.PK is an emerging marketplace. The most successful sites for online shopping in Pakistan are those offering multiple products, from appliances to groceries.
Following are some similar websites like Daraz. pk and alternatives for online shopping.
CyberMart.PK
CyberMart.PK is an emerging name in Pakistan's retail market and listed among the top online shopping sites in Pakistan so soon. It is rapidly growing as a leading online marketplace by creating a corridor to connect millions of buyers and sellers on one platform around the world.
Moreover, they prefer to use technology to empower customers and provide them the chance to grow and flourish. CyberMart is offering one-stop online shopping with millions of products that everyone is seeking in this age of technology.
They have a comprehensive range of first-class products from branded clothes and shoes to groceries, everything in one place. You can find stylish attires by Khaadi, Bonanza Satrangi, Gul Ahmed, Limelight, Beechtree, Ethenic, Al-Karam, and many more at discount prices.
They are committed to supporting e-commerce worldwide and paving the way for progress and success with innovation. They offer the best shipping and customer support services. Further, you will receive your order within a few business days without delays.
Cyber Mart is a tremendous online marketplace with millions of high-quality products like makeup accessories, skin care products, electronics, accessories for kids, kitchen and household accessories, stylish clothes, footwear, mobile accessories, and many more.
Their online store is gaining loyal and potential customers through promotional campaigns regarding discount offers and coupons.
Shophive
Shophive has been working in the e-commerce market since 2006 when only a small number of people were interested in online shopping in Pakistan. Their online store has multiple items from home appliances, devices, and self-care items.
Shophive is famous because they bring products from world-recognized brands to the local market like watches, Apple smartphones, and laptops by HP, Dell, Lenovo, etc. Users can choose from a combination of electronics like TVs, gaming computer systems, and video games.
HomeShopping
HomeShopping.pk is well-known for its collection of mobile phones, smart gadgets, and electronic appliances. You can find the suitable option for products by filtering the search by category, brand, and condition.
There are always limited choices to choose from when you visit the local market, but HomeShopping will show you a variety of options by renowned brands at an affordable price.
On the other hand, they are not only selling electronics, but also have options of eye-catching varieties like books, stationery, mobile accessories, fashion, and toys for kids. Moreover, they have a section for travel lovers to find hotels in the main cities of Pakistan.
Symbios.pk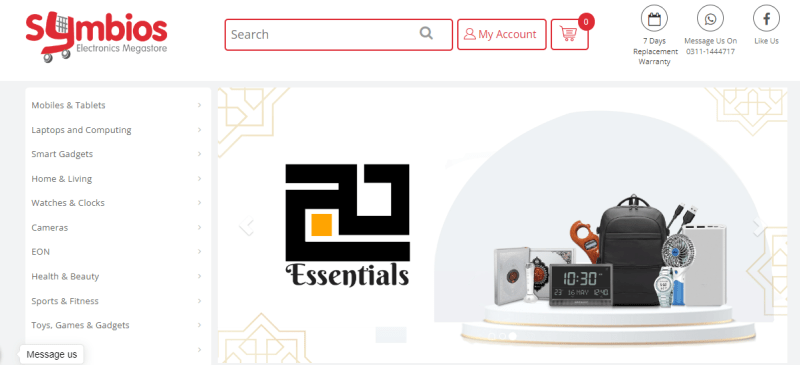 Symbios falls in the category of pioneers of online shopping of smart gadgets and electronic appliances. They have been providing their best quality products and services in Pakistan since 2006.
At their online store, you can explore laptops, computers, smartwatches, tech gadgets, fitness gear, and TVs at an affordable price. In the past few years, they have expanded their products to the kitchen, home, office appliances, and access for outdoor activities, as well as cameras and home entertainment gadgets.
Other than health and beauty products, they have an excellent section for eQuran. The opportunity of the digital Quran helps a lot in reciting the verses of the Quran.
iShopping.pk
It is considered one of the best sites for online shopping in Pakistan with multiple online stores and a wide variety of products. There is an exclusive online store for every category along with subcategories to buy the best items.
Their online stores begin with men's and women's accessories to electronics, health, beauty, office, kids toys, books, stationery, and more. They are serving Pakistan with their high-class everyday and luxury items. Moreover, they have other products like groceries, blankets, automobiles, music, and travel accessories.
Sadabahaar.pk
It is a new entrant in the e-commerce industry and has a full range of online stores to fulfill the needs of online buyers in Pakistan.
You can find exclusive catalogs and categories for the fashion needs of both men and women. Besides, branded clothes also have jewelry, beauty items, smartwatches, and other gadgets in different colors at an affordable price.
They also offer the service of customization for the personalization of wallets, mirrors, gift boxes, mugs, phone covers, and pillows.
Telemart.pk
Telemart served in the e-commerce industry for about three decades. They took the initiative from electronic gadgets and smartphones and grew to fashion wear, health care, and kids sections. They create a loyal community by delivering quality products.
Qmart.pk
It is also a trustworthy name in the industry of online shopping in Pakistan. They have gathered many potential customers from youth due to their Apple products collection.
They have numerous smartphones and valuable gadgets from different brands. Qmart is the best suitable option to buy mobile, tablet, and laptops, with multiple options available at their online store.
Besides, by selling smartphones they are providing the option of selling your device, you can sell your device online by submitting all the information regarding the device.
Kaymu.pk
Kaymu.pk is hosting thousands of sellers offering various products for customers. It is becoming the most popular e-commerce store in Pakistan, and every month they get almost 1.1 million users.
About Daraz.PK
Whenever you research the best sites for online shopping in Pakistan, Daraz might be the first name you get in the results. After a few years of its launch, it has become the leading online marketplace and ecosystem of e-commerce.
It is successfully working in South Asia with the multi-vendor scenario. They have created an innovative platform by connecting brands, manufacturers, and sellers to the end buyer directly.
They are offering multiple options for their customers with more than 30,000 sellers and reasonable prices.
Final Words
These are similar websites like Daraz.pk and alternatives for online shopping in Pakistan that are providing a wide variety of products in a reasonable price range. The main aim, in general, is to deliver multiple items with an easy and budget-friendly online shopping shopping experience.
The Ultimate Shopping List: Top 5 Products to Buy from Online Stores in Pakistan